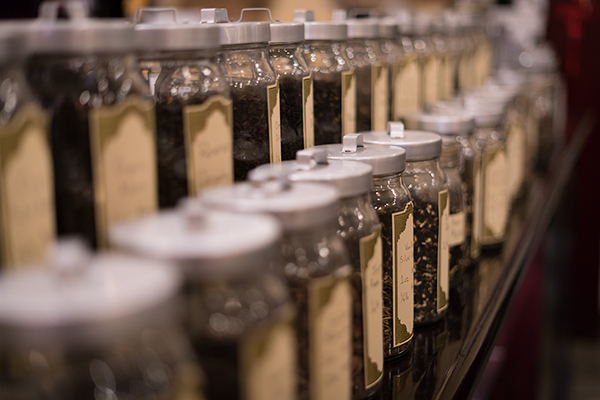 Welcome to urbantea.co.uk we feature a massive range of Tea, Teaware and Tea making equipment from leading UK Tea merchants, large and small. Featured merchants include…
Cho Yung Tea
Premium health Tea handmade in accordance to 400-year-old traditional recipes using ingredients from Japan, China and South Korea
Clipper Tea
Clipper started life back in 1984 when Tea enthusiasts Mike and Lorraine imported a pair Tea chests to their hometown of Beaminster in Dorset. In 1994 Clipper became the UK's first Fair Trade Tea company and then a couple of years later Clipper hit the supermarkets becoming a national brand and at the same time was the first company to introduce Green Tea to the supermarket shelf. Over the past 20+ years, Clipper has continued to expand their Tea blends and have now hit the European market.
Daylesford
For over 35 years Daylesford has been running a sustainable organic farm in Staffordshire that produces organic products, to complement their organic range Daylesford have sourced organic Tea.
East India Company Tea
The East India Company was established over 400 years ago by a group of merchants who were working under royal charter for queen Elizabeth the 1st. These merchants were true pioneers who bought much exotic Tea's herbs and ingredients to Britain changing taste's and customs worldwide. The company were the first to bring Tea to China and India and at one time was responsible for 50% of the world's trade while employing 25% of the British workforce. The East India Company is legendary in many ways and today are recognised as a luxury brand worldwide with unique and evolving products made from the finest ingredients, which of course includes a range of Tea.
English Tea Shop
The English Tea Shop has their own factory in Sri Lanka where they make their wide range of Tea. All ingredients are Fair Trade, Organic and Natural, and are sourced from top growers all over the world.
New English Tea
New English Teas are blenders and purveyors of the world's finest Teas and specialise in gift Teas with various themes including English landscapes, Best of British, British Icons, Emoji and Beatrix Potter.
PG Tips Tea
PG Tips is the UK's most consumed Tea and was originally called Pre-Gest Tea in reference to the 2 types of Black Tea leaves picked from the top of the bud that's used in the legendary blend, Tea sellers used to call the Tea 'PG' and the name stuck. PG was sold loose from in the 1930's to the 1960's when the Tea Bag was introduced and in the 80's a string was added as the trend of making Tea in the mug (and not the pot) was rocketing. The Pyramid Tea Bag introduced in the 90's was PG's real coup a simple but revolutionary idea that changed the taste of Tea forever. The pyramid eventually made PG Tips the most popular brand of Tea in Britain.
Pukka Tea
Pukka Tea is more than just 'organic' Pukka Tea is made on the four principles of Health, Ecology, Fairness and Care ensuring that all Tea's and ingredients are of the absolute finest quality and provide numerous health benefits to the consumer. Pukka also ensures that the Tea farmers are paid a premium price for their skilled and careful farming methods. Finally Pukka donate 1% of their annual profit to environmental causes, by drinking Pukka Tea you are safeguarding the planet.
Rare Tea Company
Here is the full range of Teas from Rare Tea Company an independent company based in London, founded in 2004 by Henrietta Lovell who source's great quality Tea direct from the Tea farmers.
Taylors Tea
Taylors Of Harrogate are a family run Yorkshire Tea merchant who has been selling fine Teas for over 130 years, Taylors is a massive company today but still retains the traditional family run business ethos
Tea Forte
Tea Forte is a luxury Tea brand that was founded in 2003 by American designer Peter Hewitt who wanted to bring the "art of Tea" to the global market with artfully blended Teas and designer Tea accessories. You will find Tea Forte Tea's in 35 different countries in luxury hotels, resorts, restaurants, boutique cafes and high-end retailers. The Tea Forte range is also available online.
Tea Makers Of London
Tea Makers Of London are an award winning brand who specialise in authentic speciality Teas which are sourced from some of the best gardens in the world from Ceylon, India, China and Japan. The Tea is endorsed by their expert Tea tasters. There is a wide range of Tea on offer and new varieties and blends are regularly introduced.
Tea Pigs
Tea Pigs was started by Tea evangelist Nick and experienced Tea taster and Tea addict Louise, their mission? to get everybody drinking proper Tea again. Nick & Louise source whole Tea leaves and whole ingredients to compliment the Tea. It's all about the flavour, the Tea is put into a large biodegradable bag which allows the leaves and the complimentary ingredients to infuse properly giving you proper tasting infuser style Tea in a bag.
The Herbal Tea Company
The Herbal Tea Company only sell 100% natural Teas and Herbs which are grown organically, handpicked, imported and blended by hand (with very strict quality control) in their specialist factory in Lancashire. The company offers a blending service so you can pick your favourite Tea, herbs and flavour and The Herbal Tea Company will blend it for you, making you your own unique Tea blend.
Twinings Tea
Thomas Twining founded Twinings in 1706 around 40 years after Tea was first imported into Britain, Thomas worked with an East Indian Tea merchant for 5 years learning the trade inside out before going out on his own after buying a Coffee shop in The Strand, London. Back in those days Coffee was hugely popular and Tea was a new and then a relatively unknown beverage but Thomas's vast knowledge of Tea gave him an advantage and soon people from all over London were going to the Coffee shop to drink Tea. In 1717 Thomas acquired buildings opposite the original Coffeehouse and made them into a dry Tea & Coffee shop the first of its kind on the planet. The original Twinings shop is still there and is still a great Tea and Coffee shop selling Twinings much-loved Tea blends which are also available online.
Typhoo Tea
Typhoo was founded in 1903 by John Sumner the first person in the UK to sell pre-packaged Tea, John originally sold Tea as a cure for digestion. Over the past century, Typhoo has grown into one of Britains favourite brands of Tea. The company remains true to John's original ethos of sourcing fine quality ingredients which have functional health benefits. Today Typhoo Tea is sourced from all over the world and sold in over 40 countries.
Whittard Tea
Whittard Of Chelsea was founded in 1886 by a young man called Walter Whittard who had an obsession with sourcing the best, Tea, Coffee and Cocoa on the planet. Walter opened a shop on Fleet Street during the British Tea Boom when the English were growing millions of kilos of Tea in India. Walters shop had an abundance of Leaf Teas, Coffee Beans and Cocoa, Walter was an expert Tea blender and he's unique infusions kept his customers coming back for more. To this day over 130 years later, Whittard Of Chelsea have carried on making high-quality Tea's and are one of the UKs most popular brands.
Vahdam Tea
Vahdam is a unique Tea company that source fine Teas from over 100 gardens in India and Nepal and ship them within 24-72 hours after picking, which ensures the freshest Tea leaves possible and the exclusion of the middlemen ensures the Tea farmers get paid more. Vahdam has over 80 years experience in the Tea industry and serves over 65 countries.