The Herbal Tea Company only sell 100% natural Teas and Herbs which are grown organically, handpicked, imported and blended by hand (with very strict quality control) in their specialist factory in Lancashire.
The company offers a blending service so you can pick your favourite Tea, herbs and flavour and The Herbal Tea Company will blend it for you, making you your own unique Tea blend.
Click Here For The Herbal Tea Company Prices, Buying Options & Availability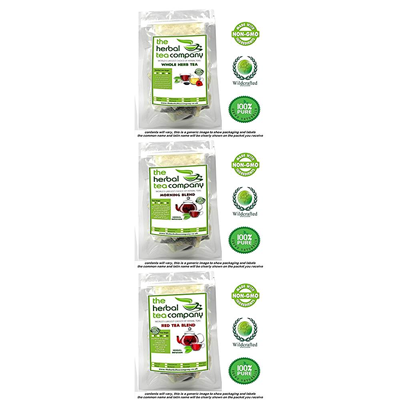 The Herbal Tea Company Black Tea
Ceylon Orange Pekoe
Classic Ceylon Black Tea picked from the Tea gardens of the award-winning Kenilworth estate, a golden brew with a mellow refreshing taste.
Chai Masala Tea Blend
A traditional Indian favourite Darjeeling leaves are mixed with red and black peppercorns, cardamon pods, cloves, cinnamon, coriander seeds, fennel seeds, ginger and star anise. Spicy and refreshing enticing aroma.
Classic Earl Grey
Black Tea from the Tea gardens of China, carefully handpicked and infused with bergamot oil for that traditional earl Grey taste, an English favourite.
Himalayan Darjeeling
Grown at very high altitudes this Darjeeling black Tea has a natural fruit taste with muscatel tones.
Lapsang Souchong
Classic Souchong black Tea smoked in baskets over pine fires, a traditional Chinese method. Naturally sweet with a smokey flavour.
Morning Tea Blend
A blend of Assam and Kenyan black Tea, a strong, full bodied brew to get you going in the morning.
No.19 Blended Tea
Back in the early days Tea used to be very strong this was because drinking water was heavily contaminated, No.19 has been inspired by the historical traditional blends. Very strong and high in caffeine.
Phulbari Assam
A single estate black Tea from the renowned Assam gardens of India. A full bodied Tea with a malty taste and undertones of fruit.
The Herbal Tea Company Green Tea
Flowers Of Paradise
A blend of Chinese green and white Tea picked form Fujian Tea gardens. with added pieces of apple, mango and peach, the mix is then infused with marigold petals and safflower.
Sencha
Pure Sencha leaves from Japan, refreshing green Tea that's high in antioxidants and is a natural fat burner.
The Herbal Tea Company Red Tea
Rooibos-Red Bush Tea
Natural Rooibos handpicked in South Africa naturally very low in caffeine with a vanilla and honey taste. Very high in the antioxidant Aspalathin.
Click Here For The Herbal Tea Company Prices, Buying Options & Availability