Vahdam is a unique Tea company that source fine Teas from over 100 gardens in India and Nepal and ship them within 24-72 hours after picking, ensuring the freshest Tea leaves possible. The middlemen's exclusion ensures the Tea farmers get paid more.
Vahdam has over 80 years of experience in the Tea industry and serves over 65 countries.
Click Here For Vahdam Tea Prices, Buying Options & Availability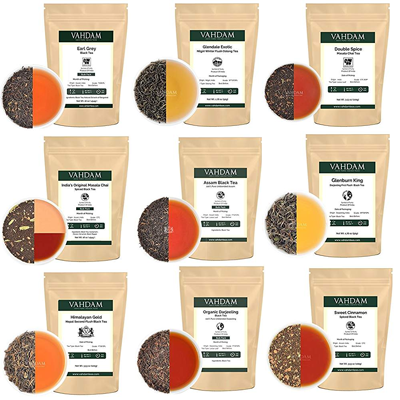 Vahdam Black Tea
Antu Valley Golden Tippy Souchong
Sought after second flush Souchong leaves are handpicked, rolled and pine-smoked for a golden brew with a natural smokey flavour and woody aroma.
Applause CTC Assam
CTC stands for crush, tear and curl a traditional method of processing handpicked Tea leaves that produces granular Tea that's bright red and very strong.
Arya Diamond Autumn Flush Darjeeling
Carefully selected diamond grade black Tea picked in the autumn the leaves give you a bright cup of tea with a taste of fruit and honey.
Arya Diamond First Flush Darjeeling
Picked early spring from a low altitude garden in the Darjeeling region, these hand-rolled leaves brew a natural, full-bodied Tea.
Arya Premium Ruby Darjeeling Second flush
Organic silver-tipped Black Tea with a classic muscatel flavour and fruity and floral tones, a caramel scent finishes this lovely Tea.
Assam Enigma Second Flush
Black Assam Tea picked at the second flush, has a caramel and honey flavour with a malty, fruity scent.
Barnesbeg Premium
A summer picked silver-tipped Tea brews a bright golden liquid which is very mellow on the taste buds.
Autumn Classic
Blended organic autumn black Tea leaves make an amber brew with chocolate, muscatel taste and woody undertones.
Autumn Emperor
A blend of black Teas sourced from renowned gardens in the Darjeeling area, a smooth, lightly fruity flavour with grapes and dark chocolate aroma.
Autumn Gold
Part of Vahdams gold collection, dry leaves that are expertly picked in autumn. This bright brew has a fruity aroma and a naturally sweet honey taste.
Autumnal Ruby
Vahdam's signature Darjeeling handpicked at the peak of the autumn season for a medium-bodied brew with a gentle flavour.
Castleton Exotic Darjeeling Autumn Flush
A light coloured brew with a mellow flavour and fruity tones.
Castleton Premium
First, flush Darjeeling from the iconic Castleton estate established in the late 19th century by Charles Graham. This citrus Tea is not sweet but has a hint of apricot with floral undertones, lovely and smooth.
Classic English Breakfast Black Tea
A popular blend of golden tipped Assam is used to make a rich, full-bodied breakfast brew you will experience hints of chocolate, caramel and cocoa with every sip.
Daily Assam Black Tea
The most popular Assam in the Vahdam range, golden tipped leaves make a bright red Tea with a strong, full-bodied flavour.
Darjeeling Classic Second Flush
Picked in the summer, this golden Tea has a slight taste of grapes with a beautiful chocolaty aroma.
Daily Darjeeling
Vahdams best selling black Tea made with high quality leaves that make a golden liquor with a rich muscatel flavour.
Darjeeling Spring Gold
Mellow first flush Tea with a floral flavour and hints of honey, intensely sweet. Picked from the foothill gardens of the Himalayas.
Earl Grey Citrus Black
A blend of fine quality Indian Teas infused with classic Italian bergamot oil, a bright Tea that tastes fruit, an English favourite naturally.
Giddapahar Exotic
Straight from the Kurseong Valley this first flush Darjeeling has been grown in a small but respected Tea garden. Leaves have been blended from China, Clonal and Assam bushes bringing you a strong but refreshing flavoured Tea.
Giddaphar
A brisk flavoursome second flush Darjeeling from the high altitude Tea gardens of Giddaphar.
Giddaphar Muscatel
Premium second flush black Tea with a muscatel taste of dark chocolate and blackberries, amber colour.
Glenburn King
Glenburn is recognised as one of Darjeeling's top Tea gardens, a sweet mixed taste of fruit and grass gives the impression of flowers with every taste.
Glendale Twirl Nilgiri Winter Flush
Handpicked in winter from the established Glendale estate, a golden tea with a rich, fruity flavour.
Golden Orange Pekoe
Pure orange pekoe picked at the peak of the season. Blended with carefully selected premium leaves with the classic Darjeeling muscatel flavour.
Goomtee Exotic Darjeeling
Grown at a very high altitude of 6000 feet, this Tea has a full-bodied floral flavour with a wood and herb aftertaste.
Halmari Clonal Second Flush
Second flush black Tea handpicked from the gardens of Halmari, naturally sweet with the flavour of chocolate, caramel and dates and a honey undertone.
Himalayan Breakfast
A naturally flavoured hand-rolled black Tea picked from high gardens in the Himalayas—a full-bodied Tea with a wood and honey flavour.
Jungpana Exotic
The organic silver-tipped, single estate first flush Darjeeling. A floral taste with hints of nuts, blackcurrant and mango.
Jungpanna Premium Autumn Flush
Organic Black Tea picked later in the season which ensures a medium-bodied flavour with natural woody undertones.
Namring Upper Imperial
Black Tea picked from North East India during the peak season, a naturally sweet Tea with mild fruit and floral flavours, low in caffeine.
Okay Darjeeling
Pure first flush Darjeeling from the Okayti estate-grown at a high altitude of 6000+ feet and picked in the early spring. This Tea has a sweet flavour and fruity smell there is a subtle taste of passion fruit and pear.
Okay Wonder
Okay is one of the classiest Darjeeling Tea estates and this wonder brand is the gardens finest example. Silvertip leaves give you a smooth, slightly fruity tasting Tea with a gorgeous honey aroma.
Rose Herbal Green Tea
A blend of Assam and Kangra Valley Green Tea infused with rose petals, a bright Tea with a floral aroma.
Seek Classic
A traditional organic autumn flush black Tea, very refreshing with a mellow taste.
Click Here For Vahdam Tea Prices, Buying Options & Availability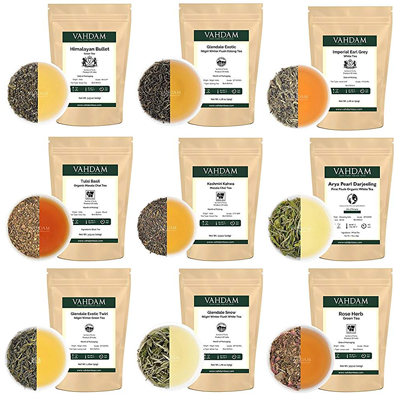 Vahdam Green Tea
Antu Valley Flowery Pekoe
A natural second flush green Tea with an organic flavour of fresh vegetables and a slight citrus hint.
Arya Emerald
A 100% organic Green Tea leaves with a floral aroma from the Arya Tea estate.
Arya Second Flush
Organic second flush Darjeeling green Tea, mildly fruity, smooth and sweet with a butter vegetable undertone and strong fruity and flowery aroma.
Earl Grey Green Tea
Second, flush green Tea leaves from the Darjeeling region and bergamot oil are used to make this lime and orange tasting Tea blend.
Giddapahar
A second flush green tea with a mild fruity flavour and golden colour.
Glendale Exotic Twirl Nilgiri
A peak winter flush Darjeeling green Tea picked from the south Indian Glendale estate. Very high quality leaves with a fresh citrus grass flavour.
Green Chai
Indian Green Tea blended with black peppercorns, cardamon, cinnamon and clove.
Jasmine Earl Grey Green Tea
Premium green tea that's been infused with Jasmine petals and bergamot extract, a smooth and sweet brew.
Himalayan Pearls
Tightly rolled green Tea pearls from the peak gardens of the Himalayas, has a unique smokey and nutty flavour.
Namring Upper Darjeeling Green Tea
Dark green leaves picked during the autumn flush, a very refreshing brew.
Nepal Exotica
A blend of second flush green Teas from Nepal, a golden cup of mellow green Tea with a sweet and citrus flavour.
Organic Premium Green Tea
Organic leaves grown in high altitude Himalayan gardens, naturally sweet and citrusy.
Rohini Classic
Classic first flush Darjeeling green Tea picked from the Rohini Tea Estate in the Kurseong valley, low in caffeine and high in antioxidants.
Selim Hill
Picked from the organic gardens of Selim Hill this second flush green brews a bright yellow liquid which is mild and herby.
Tulsi Basil
Indian Green Tea blended with the traditional native herb Tulsi renowned for healing, very soothing, calming and healthy with a naturally sweet, mellow taste.
Vahdam White Tea
Anongrove Emperor
Loosely rolled organic first flush white Tea with a mixed flavour of fennel, geranium, lavender and mango. Crisp and refreshing.
Arya Pearl
A rare first flush Darjeeling, this silver-tipped White Tea has a mild natural sweet taste and floral aroma. The leaves have a two leaf and bud appearance with silver needles, for the serious white Tea connoisseur.
Castleton Moonlight
One of the highest quality white teas on the market, these leaves are in short supply hence the price. The bushes are handpicked just before sunrise and mildly dried. This white Tea is nicely sweet with a floral undertone.
Glendale Snow White Nilgiri
A speciality white Tea from the Glendale estate in south India. A delegate but rich, a floral brew that's very high in antioxidants.
Imperial Earl Grey White
White Darjeeling Tea leaves are infused with bergamot extract, sweet and citrusy, white Tea with the traditional taste of classic Earl Grey.
Thurbo Moonlight
This Tea is mellow and sweet with a hint of mango and flowers a blend of first flush white tips and clonal leaves.
Vahdam Oolong Tea
Doke Rolling Thunder Bihar
A semi-fermented Oolong processed by hand using traditional methods, a light coloured Tea with a natural honey flavour.
Dharamsala Mann Kangra
A natural hand-rolled first flush Oolong from a well-known estate in the Himalayas, notes of vegetable, tobacco, wood and nuts. Low in caffeine.
Glendale Exotic Winter Flush Nilgiri
This Oolong is picked in the winter season a tasteful mix of tropical fruits, orchid, cherry and orange blossoms.
High Mountain Oolong
A full-bodied second flush Tea with a refreshing grapefruit flavour.
Maharani Chai Spiced Oolong
A blend of Indian Oolong Teas with added spices including black pepper, cardamom, cinnamon and cloves.
Maharaja Earl Grey Oolong
Oolong with bergamot oil, the main flavour of traditional Earl Grey Tea.
Click Here For Vahdam Tea Prices, Buying Options & Availability