PG Tips is the UK's most consumed Tea and was originally called Pre-Gest Tea in reference to the 2 types of Black Tea leaves picked from the top of the bud that's used in the legendary blend, Tea sellers used to call the Tea 'PG' and the name stuck. PG was sold loose from in the 1930's to the 1960's when the Tea Bag was introduced and in the 80's a string was added as the trend of making Tea in the mug (and not the pot) was rocketing. The Pyramid Tea Bag introduced in the 90's was PG's real coup a simple but revolutionary idea that changed the taste of Tea forever. The pyramid eventually made PG Tips the most popular brand of Tea in Britain.
PG Tips Black Tea
PG Tips Original
Black Tea Leaf granules in the legendary pyramid bag for the perfect cup of Tea, also available loose leaf for those who prefer the traditional Tea pot.
Assam
A classic full bodied malty tasting Tea.
Click Here For PG Tips Tea Prices, Buying Options & Availability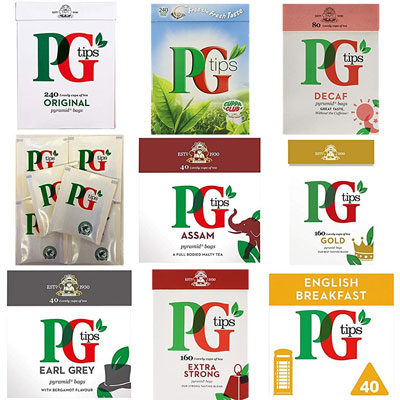 Decaf
Decaffeinated black Tea available in pyramid bags or loose leaf.
Earl Grey
PG Tips have introduced the English classic Earl Grey into the range, a blend of black Teas infused with bergamot.
English Breakfast
A rich full bodied Tea designed for the breakfast table, also a favourite one for the builders break time.
Extra Strong
Extra strong black tea that will get you going in the morning or at break time.
Gold
A premium blend of Assam and Ceylon grown in the high altitude gardens of Sri Lanka and India, a gold cup of tea with a rich full bodied flavour.
PG Tips Green Tea
Lemon
Refreshing green Tea with zesty lemon.
Lemon Pie
Green Tea combined with a special lemon pie flavour.
Jasmine
PG's smooth green Tea infused with jasmine petals.
Mint
Pyramid bags loaded with sencha leaves and peppermint, very refreshing and great for digestion.
Orange
Green Tea granules flavoured with orange, a lovely zingy summer Tea.
Raspberry
Green Tea leaves flavoured with raspberry.
Smooth
Smooth and gentle green Tea that infuses great in the pyramid bag.
Strawberry Cupcake
The ideal green Tea to have with cakes the flavour will remind you of those hot summer days.
PG Tips Fruit & Herbal Tea
Apple & Cinnamon
Tea that tastes just like apple pie, yes really.
Apple & Cranberry
A fruit blend that goes hand in hand with a herbal Tea.
Blackcurrant
Sweet, sour and spicy a real taste of summer.
Camomile
A pure herbal bag of Camomile naturally sweet, soothing and calming with zero caffeine.
Cool Citrus
A cool citrus herb infusion with citrus flavours and peppermint.
Honey & Lemon Balm
A soothing blend of honey and lemon naturally citrus sweet and soothing.
Lemon & Ginger
A herbal infusion with ginger root and lemon, a warming spicy and zingy citrus Tea.
Juicy Red Berries
A fruity berry summer infusion from PG stuffed full of fruits and herbs, caffeine free.
Mint & Liquorice
A blend of herbs, peppermint leaves and liquorice root.
Pear & Caramel
A caramelised Pear flavoured herbal infusion.
Peppermint
Real peppermint leaves in the famous pyramid bag, long infusions work best for this refreshing Tea that also doubles up as a digestive aid.
Click Here For PG Tips Tea Prices, Buying Options & Availability