Here is the full range of Teas from Rare Tea Company, an independent company based in London, founded in 2004 by Henrietta Lovell who source's great quality Tea direct from the Tea farmers.
Click Here For Rare Tea Prices, Buying Options and Availability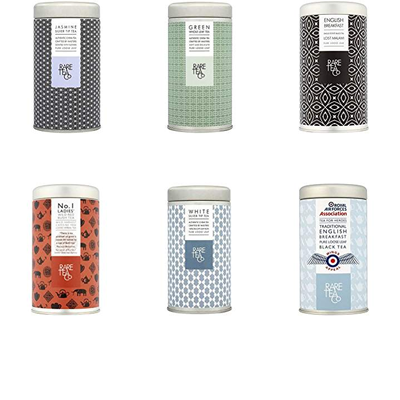 Rare Earl Grey Tea
The 'ultimate expression' of an English Classic that the Financial Times has called "The number 1 Earl Grey" A rich Black Tea has been infused with Bergamot Oil to give a subtle lemon and bitter orange flavour. Rare Earl Grey can be infused cold and used in cocktails. The leaves can be brewed twice if desired.
Rare English Breakfast Single Estate Tea
An old fashioned Tea carefully hand produced in the Satemwa gardens on Thyolo mountains in Malawi, Great for breakfast.
Rare Oolong Tea
The Chinese favourite Oolong is halfway between Black & Green Tea and is sometimes referred to as 'blue tea'. Rare Oolong has a rich floral aroma and can be infused several times, giving you a different flavoured Tea at each infusion.
Rare Royal Airforces Tea For Heroes
A special blend for the Royal Airforces Association a mix of Black Tea from the Satemwa Estate in Malawi and Darjeeling Tea from the Makaibari Estate in India. For every tin purchased, 50p goes to the Royal Airforces Association appeal.
Rare Speedy Breakfast Tea
A very strong finely cut Black Tea guaranteed to wake you up in the morning, this loose leaf tea is grown and picked on the family-run Satemwa Estate in Malawi.
Rare Silver Tip Jasmine Tea
The finest Silver Tips infused with Jasmine flower petals, traditionally handpicked on a Fujian Garden and infused on a Jasmine farm for 6 days before packing and exporting.
Rare Silver Tip White Tea
Made from Spring Buds, this is the purest form of Tea there is The silver tips are picked in the Fujian mountains using traditional methods. A pure sweet taste with high antioxidants and shallow caffeine content.
Rare Whole Leaf Green Tea
Green Tea Made from high-quality Monkey Paw Downy Buds using a 3000-year-old Chinese technique of firing leaves over charcoal. You will not find a refreshingly smooth and sweet flavour in commercial tea bags.
Rare Whole Leaf White Tea
Handmade from spring buds and freshly picked leaves, a mildly sweet, leafy and peachy flavour. White Tea is dried in the sunshine, which retains the smooth flavours and high antioxidants.
Click Here For Rare Tea Prices, Buying Options and Availability