Pukka Tea is more than just 'organic' Pukka Tea is made on the four principles of Health, Ecology, Fairness and Care ensuring that all Tea's and ingredients are of the absolute finest quality provide numerous health benefits to the consumer.
Pukka also ensures that the Tea farmers are paid a premium price for their skilled and careful farming methods. Finally Pukka donate 1% of their annual profit to environmental causes, by drinking Pukka Tea you are safeguarding the planet.
Click Here For Pukka Tea Prices, Buying Options & Availability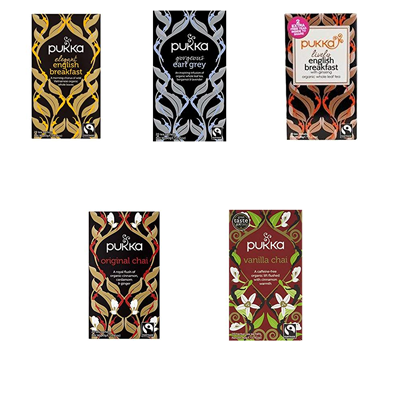 Pukka Black Tea
Elegant English Breakfast
Whole organic Nam Lanh leaves have been used in this speciality blend, A rich and full-bodied English classic.
Gorgeous Earl Grey
Fairtrade leaves sourced from ancient Indian Tea gardens, infused with bergamot oil as per traditional Earl Grey. Pukka has added their own twist to this classic blend with hints of lavender and lemon.
Original Chai
Pukka's own version of the Indian classic, organic black leaves and the herbs cardamom, cinnamon, ginger, and liquorice hint.
Pukka Green Tea
Clean Matcha Green
Organic green matcha Tea with lemon, dandelion root and fennel.
Ginseng Matcha Green
Pure sencha leaves grown and picked by hand on the volcanic island of Jeju Do. Lemongrass, ginger and red ginseng are added to this matcha, pure strong and lemony.
Green Collection
Pure matcha and whole green Tea leaves with peppermint, lemon, ginseng and berries. Unique, natural and refreshing.
Mint Matcha Green
Pure green Jeju Domatcha with ground organic peppermint leaves, a cool and crisp infusion.
Revitalise
Revitalise yourself with this warm and mildly spicy green Tea, contains cinnamon, cardamom and ginger with a twist of spearmint.
Serene Jasmine Green
Whole leaf Mao Feng green tea with chamomile, infused with jasmine, lavender and rose petals.
Supreme Matcha Green
Pure matcha powder made with ground Chinese Sencha, Indian Oothu, and Vietnamese Suoi Gang, strong green tea, is very high in antioxidants.
Sweet Vanilla Green
Whole leaf green tea blended with organic vanilla pods, fennel and liquorice.
Wonder Berry Green
Whole leaf green tea blended with the superfoods beetroot, blackcurrants, elderberries, rosehip and echinacea.
Pukka Fruit Tea
Blackcurrant Beauty
Real blackcurrants mixed with beetroot, hibiscus, rosehip and orange peel, a dark coloured fruity treat.
Elderberry & Echinacea
The taste of elderberries and blackcurrant with elderflower and echinacea, a wild infusion.
Lemon & Mandarin
Made with organic slow dried fruits, this is a great citrus summer infusion that can be enjoyed hot or over ice, Sicilian lemons with lemon verbena and mandarins.
Wild Apple & Cinnamon
A mix of wild apple and orange with the spicy warmth of ginger root and cinnamon, finally this fruit Tea is infused with chamomile for that nice soothing feel.
Click Here For Pukka Tea Prices, Buying Options & Availability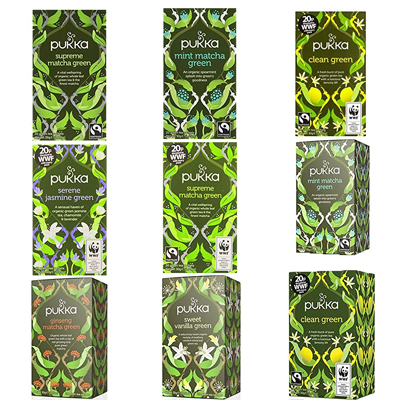 Pukka Herbal Tea
After Dinner
A tasty digestion Tea to drink after a big meal contains the natural digestive aids aniseed, cardamom, sweet fennel & liquorice.
Chamomile, Vanilla & Manuka Honey
Bring some calm into your life with this sweet and soothing Chamomile blended with organic vanilla pods and manuka honey.
Cleanse
Cleanse your body with this mix of organic aloe vera, dandelion root, fennel, nettle and peppermint.
Detox
A detoxing clean fusion of organic aniseed, cardamom and fennel, tasty and healthy.
Detox With Lemon
As above contains organic aniseed, cardamom and fennel with extra lemon peel, lemon myrtle and lemongrass.
Lemon Ginger & Manuka Honey
A heavenly mix of whole Sicilian lemons, slow dried ginger and elderflowers.
Lemongrass & Ginger
Fine organic lemongrass with dried ginger root, a cup of spicy zing that has a lovely warming effect.
Liquorice & Cinnamon
Sweet liquorice root with warming cinnamon, could you ask for a better combination?
Love
An infusion of rose petals, chamomile and lavender, a calming Tea with a lovely floral aroma.
Mint Refresh
A minty refreshing Tea with peppermint, fennel and rose.
Night Time Tea
A before-bed tea with organic oat flower, lavender, lime flower and valerian
Peppermint & Liquorice
A blend of natural fair wild liquorice root and organic peppermint leaves, apart from being refreshing this tea leaves a lovely minty aftertaste on the sides of your tongue.
Relax
A Tea specially made to help you relax, a blend of chamomile, fennel, oat tops and marshmallow root.
Rooibos & Honeybush
Fairtrade organic rooibos from South Africa with honeybush naturally vanilla with earthy undertones.
Star Anise & Cinnamon
Also known as green chai this herbal infusion is a blend of the 8 pointed stars shaped fruit star anise, cinnamon and ginger root, warm and stimulating.
Three Chamomile
A blend of Croatian, Egyptian and Hungarian chamomile flowers, delicate, sweet and relaxing.
Three Cinnamon
You will be hard-pressed to find 3 types of cinnamon in anything let alone Tea but pukka have done just that, a blend of cinnamon from India, Indonesia and Vietnam.
Three Fennel
The best things come in 3's they say, and there are 3 types of fennel in this Tea in the form of fennel leaf, wild fennel and Turkish fennel seeds. Strongly flavoured and very good for digestion.
Three Ginger
The most warming herbal tea is ginger root, turmeric, and sweet galangal.
Three Liquorice
A mix of organic liquorice roots from Egypt, Kazakhstan and Pakistan.
Three Mint
A crisp and minty infusion of peppermint leaves, spearmint and field mint, all organic of course.
Three Tulsi
A member of the mint family which the Indians call 'holy basil' this Tea includes green, herbal and lemon Tulsi, an uplifting and pure infusion.
Turmeric Gold
A golden turmeric-based Tea with added lemon and cardamon, turmeric has lots of health benefits now you can consume it in a cup.
Vanilla Chai
A caffeine-free mix of vanilla, cinnamon, cardamon, fennel, liquorice, ginger, and all good stuff.
Womankind
One for the ladies with organic cranberry, rose, Shatavari and vanilla.
All Pukka Teas are
Organic
Vegetarian
Vegan
Wheat free
Gluten-free
Dairy-free
Added sugar-free
Soya free
Nut-free
Kosher
FairWild
Click Here For Pukka Tea Prices, Buying Options & Availability