The English Tea Shop has its own factory in Sri Lanka where they make their wide range of Tea. All ingredients are Fair Trade, Organic and Natural, and are sourced from top growers worldwide.
Click Here For English Tea Shop Prices, Buying Options & Availability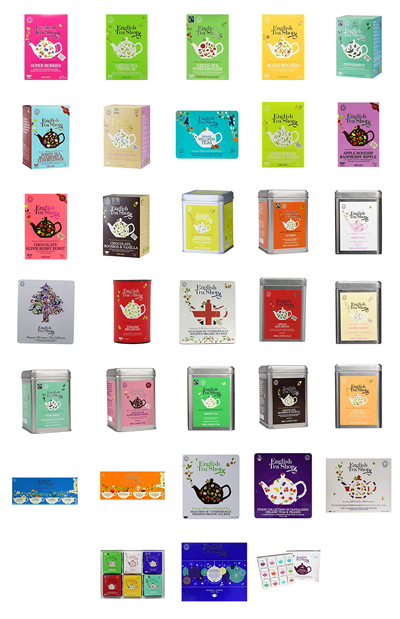 English Tea Shop Tea
Apple Rosehip Raspberry Ripple
A unique lovely fruit-packed Tea containing organic hibiscus, rosehip, apple pieces,  liquorice, organic roasted chicory, pomegranate, raspberry concentrate, and black currant concentrate with natural raspberry, blackcurrant and pomegranate flavours.
Black Tea Chai
An ancient blend of Black Tea with Cardamom, Cinnamon, Mace, Cloves, Nutmeg, Ginger, Licorice, Star Anise, Fennel, Orange Peel and Black Fennel, all organic ingredients.
Calming Blend
A smooth calming Tea blend with added liquorice, cinnamon, peppermint and lavender buds, all organic ingredients.
Chamomile
A relaxing Tea is great for calming the nerves and before bedtime.
Chocolate Super Berry Blast
A strong flavoured antioxidant Rooibos Tea is packed with berries and other organic ingredients.
Cranberry Vanilla Delight
Rooibos Tea with cranberry, rosehip cocoa, vanilla and natural flavourings.
Decaffeinated Breakfast
Classic decaffeinated organic black tea.
Earl Grey
Ceylon Black Tea with Bergamot Oil and natural Bergamot flavour. Organic and Fairtrade Tea.
English Breakfast
Black Tea is grown and made in Sri Lanka. A full-bodied Tea made to go well with milk and sugar.
Ginger Peach Tea
Black Tea with ginger spices, peach pieces and a natural peach flavour, organic ingredients.
Green Sencha
A special organic green tea processed using a traditional Japanese method, a smooth tasting Green Tea.
Green Tea
Just organic and fair trade, classic Chinese Green Tea, great for the health conscience.
Green Tea Pomegranate
A traditional Chinese mix of Green Sencha leaves and pomegranate, the ultimate antioxidant tea.
Green Tea Tropical
A traditional Chinese Green Tea blend with tropical fruit and herbs, includes spearmint, lemongrass and tropical fruit flavours.
Honeybush Acai Berry Punch
Rooibos with pomegranate and various acai berries, a great antioxidant.
Lemongrass Citrus & Ginger
An organic citrus tea with added lemongrass orange peel & ginger, natural orange and mandarin flavours have been included to give you a fresh citrus flavour.
Lemongrass Peppermint Tropical Punch
Organic Chamomile Tea with lemongrass, peppermint, hibiscus, rosehip, apple, mango, peach and pomegranate flavours.
Minty Tisane
A peppermint Tea which uses organic fairtrade peppermint leaves.
Pomegranate Blackcurrant Medley
Rooibos Tea with Pomegranate, cocoa, cranberry and blackcurrant.
Rooibos
Naturally low in caffeine and a good antioxidant and digestive aid, the perfect bedtime tea.
Chocolate & Vanilla Rooibos
Rooibos fused with vanilla pods and cocoa nibs and natural chocolate and vanilla flavours has been added to complete the Tea. Low in caffeine.
Special Red Fruits
Tea mixed with hibiscus, antioxidants rosehip, apple pieces, cinnamon and peppermint with added natural strawberry, cherry and raspberry antioxidants can be brewed hot-cold, caffeine-free.
Super Berries
Rooibos with hibiscus, spearmint, raspberry, strawberry's, and blueberry includes raspberry and strawberry flavours.
White Tea
A sweet and light White tea made when the tea leaves are budding. 100% organic with good antioxidant properties.
White Tea Blueberry & Elderflower
Sweet White Tea with added Blueberry, Elderflower, lemongrass and a natural blueberry flavour.
Click Here For English Tea Shop Prices, Buying Options & Availability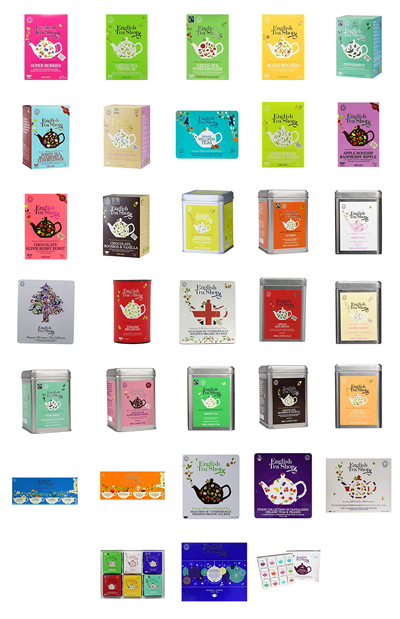 English Tea Shop Iced Tea
Berry Blush
A berry infusion of hibiscus, rosehip, strawberry and raspberry.
Berry Boost
Blueberry and Pomegranate ice tea blend, organic ingredients.
Cool Breeze
Strawberry and mint iced tea, a classic summer blend.
Indian Summer
Green Tea to serve over ice with lemongrass, lemon peel and natural orange and lemon flavour, great for those roasting summer days.
Gentle Eve
Organic Black Earl Grey Tea with bergamot oil to serve with ice.
Summer Crunch
Organic Black Tea with melon, apple and mint.
Summer Haze
Lemon and Hibiscus organic iced tea, includes rosehip, orange and lemongrass.
Very Berry
Iced Rooibos mix with hibiscus, spearmint, raspberry, strawberries and blueberries.
English Tea Shop Wellness Tea
Comfort Me
Chamomile with natural, calming organic herbs.
Detox Me
A natural caffeine-free detoxing blend with many natural and organic antioxidant ingredients.
Energise Me
Energise yourself with this Rooibos blend of ginseng, blackcurrant, spearmint, peppermint ginger, elderflower, ginger and nettle.
Happy Me
An uplifting Tea blend with natural serotonin releasing ingredients.
Refresh Me
A citrus blend which contains lemongrass, lemon myrtle, eucalyptus leaves, spearmint and thyme.
Revive Me
Organic white tea with cinnamon, moringa, rosehip, lemongrass, spearmint, nettle and ginseng.
Sensual Me
A refreshing blend of organic Rooibos Tea with lemongrass, hibiscus, blackberry, lavender, liquorice and cinnamon.
Slim Me
Want to lose weight? If yes then this tea is for you, a green tea with well known natural fat burning ingredients.
Youthful Me
This Tea blend will make you feel young again, contains sea buckthorn berries, hibiscus, rosehip, strawberries and blueberries.
Brewing Times
Black Tea – 5 Minutes
Green Tea – 3 Minutes
Herbal Tea – 6 Minutes
White Tea – 2 Minutes
Click Here For English Tea Shop Prices, Buying Options & Availability