Typhoo was founded in 1903 by John Sumner, the first person in the UK to sell pre-packaged Tea, John originally sold Tea as a cure for digestion. Typhoo has grown into one of Britains favourite brands of Tea over the past century.
The company remains true to John's original ethos of sourcing fine quality ingredients which have functional health benefits. Today Typhoo Tea is sourced worldwide and sold in over 40 countries.
Click Here For Typhoo Teas Prices, buying Options & Availability.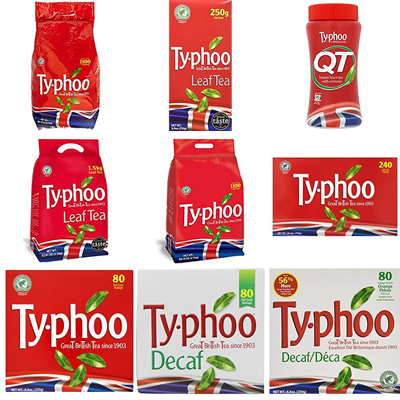 Typhoo Black Tea
D Tea
Remember that annoying advert on 1980's television that song went "I could do with a D?" well this is the legendary Tea, refreshing everyday black Tea at a fair price.
Earl Grey
Classic Earl Grey a blend of Tea sourced from Africa and Kenya, infused with bergamot oil, citrus flavour.
English Breakfast Tea
Typhoo's version of the traditional English Breakfast favourite, rich and malty with fruity tones.
Extra Strong
A blend of strong tasting Tea leaves from Africa and India makes a rich, full-bodied brew, a great start to the day.
Fresh Tea
Blended Tea from several regions in one bag, refreshing and high in antioxidants.
Gold
Fine African Tea blended with fine Assam for a great high-quality brew with a full-bodied, malty flavour.
Loose Leaf
The classic Typhoo blend of everyday black Tea, high quality and a great taste.
One Cup
Easy to make black Tea with the original Typhoo taste, this Teabag was created for the catering sector.
Melrose's
A blend of Assam and Kenyan Tea's, a full-bodied Scottish brew.
Typhoo Green Tea
Green & Black Blend
The best of both worlds in a bag is the traditional taste of black tea with green tea's health benefits.
Typhoo Green Tea
Typhoo's flagship green Tea in foil fresh Teabags.
Organic Green Tea
Fine organic green Tea has been specially selected for this blend.
Green Tea & Jasmine
Organic green tea infused for a few days with jasmine petals.
Green Tea & Lemongrass
A blend of green tea and lemongrass, zingy and refreshing.
Decaffeinated Green Tea
Organic Green Tea that's been decaffeinated using natural methods.
Typhoo White Tea
Organic White Tea
100% natural and organic white Tea, naturally delicate and sweet.
Organic White Tea Fennel & Peppermint
Sweet organic white Tea with added and peppermint, for a refreshing infusion a good antioxidant and digestion aid.
Typhoo Rooibos Tea
Green Rooibos & Honey
Green rooibos with a honey flavouring, naturally low in caffeine.
Organic Green Rooibos
Organic green Rooibos that's been treated to prevent oxidation retaining the natural state with maximum health benefits.
Typhoo Fruit And Herbal Tea
Typhoo has a range of fruit and herbal infusions made with 100% natural ingredients. Teas include Apple & Cinnamon, Camomile, Camomile & Spearmint, Dandelion Burdock & Hawthorne Leaves, Echinacea, Echinacea & Cranberry, Fennel, Lavender & Echinacea, Lemon & Ginger, Lemon balm & Liquorice, Liquorice & Oriental Spices, Morning Time, Nettle & Mate, Organic Nettle, Peppermint, Pomegranate, Raspberry Leaf, Red Berries, Rosehip and Sage & Lemon Myrtle.
Click Here ForTyphooTeas Prices, buying Options & Availability