For over 35 years Daylesford has been running a sustainable organic farm in Staffordshire that produces organic products, to complement their organic range Daylesford have sourced organic Tea.
Click Here For Daylesford Teas Prices, Buying Options & Availability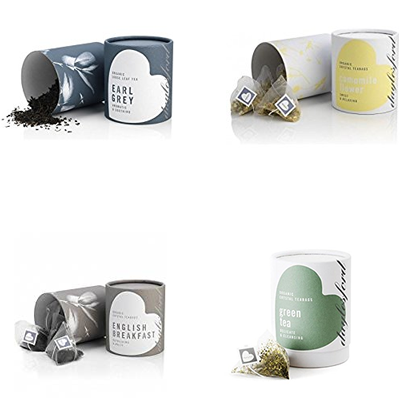 Organic Earl Grey
A blend of handpicked Assam, Ceylon and Darjeeling that's been brass rolled and infused with bergamot oil, an English classic.
Organic English Breakfast
A malt flavoured breakfast tea created from a blend of expertly grown and picked organic Assam and Ceylon.
Organic Camomile
Organic Camomile Tea from Daylesford gently sweet and naturally soothing
Organic Green Tea
A pure blend of organic Sencha Green tea leaves, very high in antioxidants and a favourite weight loss aid.
Organic Spiced Winter Tea
Blended herbs and spices include aniseed, black pepper, cardamon, cinnamon, clove, coriander, fennel, green rooibos, liquorice root, orange peel this herb blend is also infused with sunflower petals.
All Daylesford Tea's are available loose or in organic crystal Tea bags.
Click Here For Daylesford Teas Prices, Buying Options & Availability