New English Teas are blenders and purveyors of the world's finest Teas and specialise in gift Teas with various themes including English landscapes, Best of British, British Icons, Emoji and Beatrix Potter.
Click Here For New English Tea Prices, Buying Options & Availability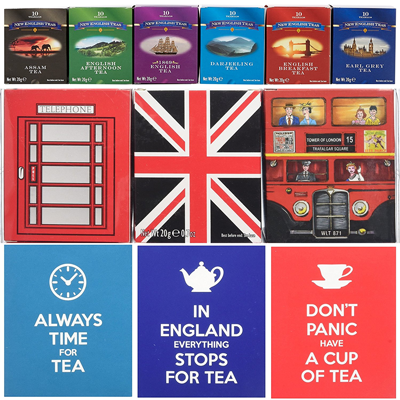 New English Black Tea
Afternoon Tea
The New English afternoon blend goes great with milk, sugar and afternoon cakes.
Darjeeling Tea
The original from Tea gardens in the Indian district of Darjeeling, a light coloured Tea with a floral aroma.
Earl Grey Tea
Britains favourite, black tea flavoured with bergamot oil, a true classic.
English Breakfast Tea
The classic English Breakfast Tea strong and black will get you going in the morning.
1869 Tea
The original blend that has been imported into the UK since 1869.
New English Green Tea
Green Tea
Standard Green tea that tastes delicious, good for burning fat and loaded with antioxidants
Green Tea With Jasmine
Green Tea infused with Jasmine leaves using a traditional technique.
New English Fruit & Herbal Blends
Camomile
Ground Chamomile leaves relaxing and soothing, a great before bed drink.
Peppermint
Refreshing Peppermint Tea is also good for aiding digestion, a great after meal Tea.
Rosehip and Hibiscus
Tea infused with rosehip and hibiscus, a tasty medicinal tea and a natural anti-inflammatory packed with polyphenols and anthocyanins.
Liquorice
Tea blended with sweet liquorice root.
Lemon & Ginger Tea
Lemon and ginger is a classic refreshing mix with a lovely citrus zing.
Superfruit
A natural caffeine-free Tea loaded with real superfruits.
Click Here For New English Tea Prices, Buying Options & Availability