Thomas Twining founded Twinings in 1706 around 40 years after Tea was first imported into Britain, Thomas worked with an East Indian Tea merchant for 5 years learning the trade inside out before going out on his own after buying a Coffee shop in The Strand, London.
Back in those days Coffee was hugely popular and Tea was a new and then a relatively unknown beverage but Thomas's vast knowledge of Tea gave him an advantage and soon people from all over London were going to the Coffee shop to drink Tea.
Click Here For Twinings Tea Prices, Buying Options & Availability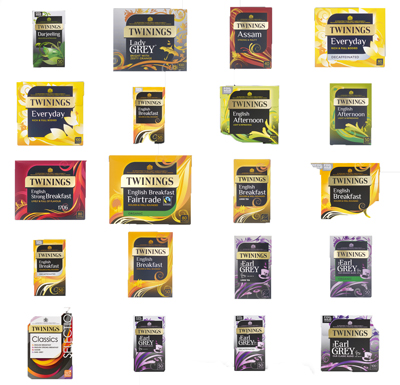 In 1717 Thomas acquired buildings opposite the original Coffeehouse and made them into a dry Tea & Coffee shop the first of its kind on the planet. The original Twinings shop is still there and is still a great Tea and Coffee shop selling Twinings much-loved Tea blends which are also available online.
Twinings Black Tea
Assam
Strong and malty black Tea, Indian Tea sourced from the flood plains around the Brahmaputra river. Twinings have been using this Assam from the region for nearly 2 centuries picked in the summer for the best possible flavour.
Ceylon
Ceylon the classic black Tea from the mountain regions of Sri Lanka, simply refreshing Tea.
China Rose
A black Tea inspired by Chinese heritage, Tea and Roses have been consumed in China for hundreds of years so Twinings have infused traditional black Tea leaves with roses to create this naturally sweet and flowery brew.
Darjeeling
Darjeeling is a light refreshing Tea from northeast India. A combination of first and second flush (picked early and late season) black Tea.
Earl Grey
Twinings created the famous Earl Grey (which has been copied by other Tea suppliers) in 1831 in their original shop on the Strand. The Tea was originally created for the then prime minister and everyone loved it and has since become one of Britain's most consumed Teas. Earl Grey is black Tea flavoured with bergamot and lemon. Also available Organic Earl Grey and decaffeinated Earl Grey.
English Afternoon
Blended second flush Ceylon from India, Africa and Sri Lanka, just black Tea with no flavourings very refreshing.
English Breakfast
A full-bodied refreshing Tea that's ideal for breakfast, a blend of African and Sri Lankan Ceylon leaves.
English Strong Breakfast
Lively and full of flavour strong African and Sri Lankan leaves are used to make this full bodied breakfast blend.
Everyday
Twinings everyday Tea rich and full bodied, blended African, Assam and Yunnan black Tea leaves.
Lady Grey
Fruity Earl Grey flavoured with orange, a nice twist for Earl Grey fans
Lapsang Souchong
Grown in the Fujian province of China and smoked in bamboo baskets over pinewood fires for a smooth smokey flavour, a traditional Chinese method, and a lovely Tea.
Twinings Green Tea
Apple & Pear
Flavoured with classic English flavours apple and pear for a fruity Green Tea experience.
Each cup will take you from an autumn orchard to the tea gardens of Zhejiang province in just one sip.
Caramelised Apple
Green Tea with cinnamon and apple and toffee flavouring.
Cherry Bakewell
Green Tea with Cherry and Vanilla flavouring tastes just like a cherry bakewell cake.
Cranberry
Golden green tea leaves with cranberry to give a fruity and flavoursome drink.
Fudge Melts
Green Tea flavoured with caramel and vanilla, a sweet cup that tastes just like fudge.
Ginger Green Tea
Pure Sencha leaves mixed with a high concentration of Ginger root (%40) and lemongrass, a spicy and zingy combination.
Gingerbread
Green Tea leaves blended with real ginger root and a natural golden syrup flavour.
Green Tea Blend
You will never have to choose between green and black again this is a great blend of black and green leaves so you can have the benefit of both in a single Tea bag. 70% Green Tea, 30% Black Tea.
Green Tea & Jasmine
Pure Green Tea that's been infused with Jasmine petals, the Tea leaves are put with fresh petals and left to infuse for a few days, every night the petals are replaced for a true infusion.
Green Tea & Lemon
Steamed sencha leaves blended with a natural lemon flavouring for a refreshing citrus brew.
Honey & Lemon
Honey & Lemon is a long used natural medicinal so why not combine this great combination with Green Tea? and Twinings have done just that, a smooth, lovely and soothing Tea.
Mango & Lychee
The Lychee is a native Chinese fruit that's been consumed for over 4000 years Twinings have smartly blended this sweet fruit with mango and traditional Chinese Green Tea leaves for a sweet tropical infusion.
Mint Green Tea
First and second flush Green Tea leaves from 3 different Chinese Tea gardens have been blended with real peppermint leaves and a natural mint flavouring. This Tea is very good for digestion.
Moroccan Mint
This Tea will transport you to the markets of Marrakesh with the lovely warm smell and taste of spearmint and cardamon, a Moroccan favourite.
Orange & Lotus Flower
The Lotus Flower is associated with beauty and purity in Buddhism and Hinduism every night they sink back into their pond and come up again and open in the morning, just like the sun. Twinings have blended Lotus Flower petals with sencha leaves and orange flavours to create a warm fruity flavoured green Tea.
Peach & Cherry Blossom
Naturally flavoured with Chinese peach and pink and white cherry blossom, a true taste of China.
Pineapple & Grapefruit
Green Tea flavoured with Pineapple & Grapefruit, lovely in summer over ice or hot at any other time of year.
Pomegranate
A simple blend of Green Tea and a natural pomegranate flavour.
Pure Green Tea
Twinnings use pan fired and steamed Sencha leaves picked at the first flush in springtime to give you a refreshing pure cup of green Tea.
Pure Green Tea Decaffeinated
The pure sencha leaves have been gently decaffeinated so you can enjoy the taste of pure green Tea without the caffeine.
Salted Caramel
Green Tea with a natural caramel flavouring, a sweet and salty taste.
Click Here For Twinings Tea Prices, Buying Options & Availability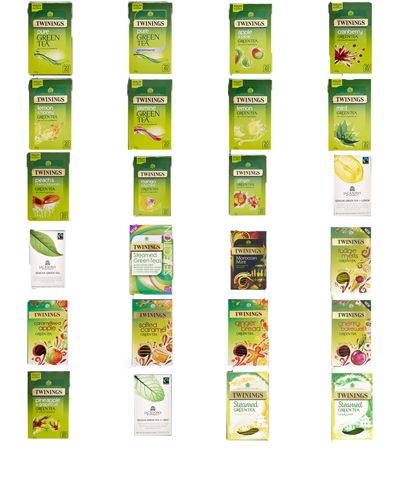 Twinings Chai Tea
Bollywood Chai Latte
Classic Indian black assam Tea with almond, spice, and honey.
Gingerbread Chai Latte
Full bodied Assam with classic Indian spices and ginger, a very warming and satisfy combination.
Spicy Chai
Traditional Indian Chai leaves blended with real ginger root, cinnamon and natural flavourings, mimics the classic Indian favourite.
Zanzibar Chai
Inspired by Zanzibar's world renowned spice markets a lovely blend of rooibos red bush Tea and Rwandan black Tea, cinnamon, cardamon, cloves, black pepper, and fennel.
Twinings Darjeeling
Darjeeling
A blend of pure Darjeeling leaves from the first and second flush, giving you a lovely mild tasting Tea.
Elderflower & Blossom
Hand rolled black Darjeeling with Elderflower flavouring, infused with pink corn petals and marigold flowers.
Golden Darjeeling
Darjeeling is a luxury favourite grown at high altitudes in the Himalayan foothills of India, Twinnings Golden Darjeeling is just pure black Darjeeling Tea leaves.
Twinings Redbush & Rooibos Tea
Golden Caramel
A blend of Rooibos from Cederberg and Olifantsrivier mountain gardens flavoured with a hint of caramel and safflowers.
Orange & Cinnamon
Rooibos infused with safflowers and mixed with Orange Peel, Cinnamon Bark then finished with orange flavouring.
Rooibos & Peppermint
Rooibos blended with peppermint (70/30) a naturally low caffeine Tea that has good digestion properties.
Twinings Camomile Tea
Pure Camomile Tea
Pure Camomile leaves that have been slowly steamed for a great sweet and flowery flavour naturally soothing and low in caffeine, the perfect bedtime drink.
Camomile & Honey
Camomile Tea flavoured with natural honey and vanilla.
Camomile & Spiced Apple
Camomile with added cinnamon and apple flavouring, a spicy and fruity bedtime treat.
Camomile & Spearmint
Cool and sweet Camomile leaves have been blended with blackberry leaves, lemongrass, linden, and spearmint.
Meadow Chamomile
Meadow Chamomile & Fennel
Chamomile infused with fennel seed and finished with a fennel flavouring.
Whole Camomile Flowers
Just whole camomile flowers you will be hard pressed to find a more natural Tea.
Twinings White Tea
Pure White Tea
The most natural form of Tea, Twinings pure white Tea is high in antioxidants and gently sweet.
Pomegranate White Tea
Pure white Tea with an organic pomegranate flavouring.
Twinings Fruit & Herbal Tea
Blackberry & Blueberry
A blackcurrant and blueberry blend with liquorice root, hibiscus, rosehip, blackberry leaves and natural flavourings.
Buttermint
Pure peppermint leaves with a sweet vanilla flavour.
Cherry & Cinnamon
Blackberry and orange leaves with hibsicus, rosehips and liquorice root, flavoured with cherry and a dash of cinnamon.
Cranberry & Blood Orange
A hibiscus and rosehip base with cranberry and blood orange flavours.
Cranberry & Raspberry
A cranberry and raspberry fruit and herbal Tea.
Doublemint
Whole peppermint with extra flavouring for a strong mint hit.
Echinacea & Raspberry
A packed fruit and herbal blend with echinacea root, hibsicus, orange leaves, orange peel, blackberry leaves and flavourings.
Lemon & Ginger
Ginger root, lemon peel and lemon grass, a warming citrus Tea.
Mango & Strawberry
Orange leaves, rosehip hibsicus and liquorice root flavoured with mango and strawberry.
Pomegranate & Raspberry
A pomegranate and raspberry flavoured fruit infusion.
Pure Fennel
Just pure fennel seeds for a full fennel herbal Tea.
Pure Nettle
Pure Nettle a 100% natural infusion, light and refreshing.
Spiced Ginger
Steamed ginger root with cloves, cinnamon, and liquorice, warm and spicy.
Strawberry & Raspberry
A summer fruit infusion with hibiscus, strawberry, raspberry, loganberry, orange peel, blackberry leaves, apple, rosehips and liquorice root.
Other fruit and herbal flavours include Apple & Pear, Blueberry & Apple, Garden Mint, Ginger & Lime, Lemon & Ginger, Liquorice, Liquorice & Lemon, Liquorice & Mint, Peppermint & Nettle, Rosehip & Apple, Trio Of Lemons.
Click Here For Twinings Tea Prices, Buying Options & Availability