Whittard Of Chelsea was founded in 1886 by a young man called Walter Whittard who had an obsession with sourcing the best, Tea, Coffee and Cocoa on the planet. Walter opened a shop on Fleet Street during the British Tea Boom when the English were growing millions of kilos of Tea in India.
Walters shop had an abundance of Leaf Teas, Coffee Beans and Cocoa, Walter was an expert Tea blender, and he's unique infusions kept his customers coming back for more. To this day over 130 years later, Whittard Of Chelsea have carried on making high-quality Tea's and are one of the UK's most popular brands.
Click Here For Whittard Tea Prices, Buying Options & Availability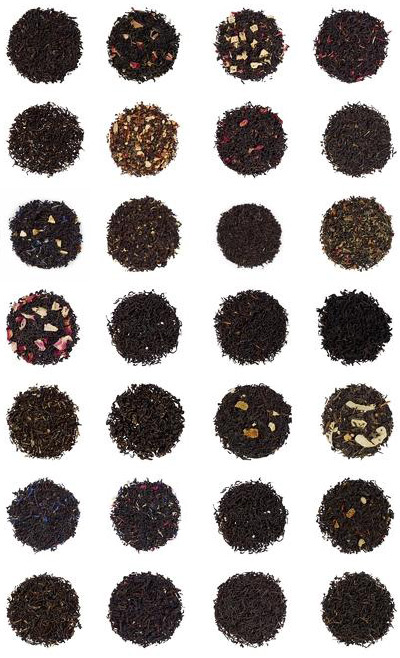 Whittard Black Tea
1886 Blend
An old blend of Tea in London during the victorian era Powerful Camilla leaves from Indonesia are used with the crush, tear, curl technique which gives a rich, full-bodied flavour.
Afternoon Tea
Afternoon Tea has been a British tradition since the mid-1800's Whittards afternoon Tea has been blended from Chinese, Oolong and Jasmine Infused Green Tea bergamot and petals finish this rich blend. Enjoy your afternoon cake.
Apple Orchard
A fruity Black Tea with real apple pieces, lemon verbena. Infused with pink petals, very refreshing
Assam Second Flush
Picked at the second harvest in India these orange pekoe tips give you a strong but sweet malty Tea with honey undertones.
Badminton First Flush Darjeeling
Picked at the first harvest of the year, Badamton Darjeeling has a flowery taste with apricot hints, naturally sweet and smooth.
Bohemian Raspberry
Whittards are big Alice In Wonderland fans and have created this Tea in honour of the Queen Of Hearts Tarts, black Tea infused with ruby red petals and blended with real raspberry pieces.
Castleton Second Flush
Grown at high altitudes in China  Castleton Second Flush has a special fruity taste of grape and peach with a spice hint.
Ceylon Orange Pekoe
A fine blend of orange pekoe grade leaves sourced from several gardens in Ceylon Sri Lanka, best consumed black but will go ok with milk, good to drink with sweet foods.
Chilli Chai
Whittards version of a classic Indian brew Black Tea mixed with the spices cardamom, cinnamon and cloves with vanilla and chilli. The perfect partner with Indian foods.
Cranberry And Raspberry
Blended black Teas from various regions mixed with real cranberries and raspberries a real fruity treat drink iced in summer and hot in winter.
Darjeeling
Whittards own Darjeeling grown in the Himalayan Foothills. This is the second flush which means it's picked mid-season, milder than other Black Teas with natural sweetness and a fruity and muscatel flavour.
Dark Chocolate
Cocoa nibs have been blended with Indian and Indonesian black Tea leaves to create this smooth and sweet chocolatey Tea.
Decaffeinated Breakfast Tea
Whittards famous breakfast Tea that's been gently decaffeinated for those who prefer to stay caffeine-free.
Earl Grey
A fine blend of Ceylon and Chinese left with added bergamot oil and infused with blue cornflowers. Earl Grey was originally made for Charles Grey, Walter Whittard built on the original blend which went on to sell out at the 19th century Tea auctions, A citrus taste that goes well with milk and chocolate.
Elder Flower Earl Grey
Sri Lankan Ceylon Tea with elderberries and blossoms with bergamot oil, a traditional English afternoon tea taste, drink on a summers afternoon and don't forget the cakes.
English Breakfast
An original Whittard blend that's been at the breakfast table for over 100 years is one of Walter Whittard's original blends made with leaves picked from India's West Java region. A smooth, malty but strong Tea goes well with milk and sugar.
English Fruit
Flavoured Black tea with raspberry, apple and cranberry, a summer fruit taste.
English Rose
Classic Chinese Black Tea infused with rose petals has a sweet, refreshing flavour with flowery tones.
Keemun
One of the original black Tea's from the Keemun region of China, a rich and fruity flavour.
Kenilworth Ceylon
Grown in the Hills of the Kenilworth Estate in Sri Lanka, this Orange Pekoe grade of Ceylon Tea is sweet and refreshing.
Kenya
Natural autumn flavours with tones of plum and cinnamon feature in this high-quality Tea from Kenya.
Lapsang Souchong
Traditionally smoked over pinewood fires, this popular speciality Fujian Tea has a natural smokey flavour and has been an English favourite for a few hundred years.
Margaret's Hope First Flush Darjeeling
Harvested early springtime in very high Himalayan gardens Margaret's Hope is very refreshing with a naturally herby taste and muscatel aroma.
Masala Chai
A traditional Indian tea, black leaves blended with cardamom seeds, cinnamon, ginger and cloves, very spicy and refreshing.
Nepal Shangri-La
A Nepalese black Tea is naturally citrusy with hints of spices, and a floral aroma picked from the Shangri-La Estate hills.
Nilgiri Kala Moti
Rich black Tea leaves harvested in South India the leaves are mildly oxidised, and hand-rolled, you will taste hints of fruit, nut and pepper in this Unique brew.
Orange Blossom
Citrusy Black Tea infused with orange petals for a pure orange Tea experience.
Petit Macaron
Blended black and green tea with added coconut, caramel and hazelnuts, a creamy and nutty brew that will go well with any sweet pastry.
Piccadilly Blend
A classic Whittard blend using both British and Eastern traditional recipes, black leaves with strawberry, rose and lotus, finished with cornflower petals—a floral, fruity sweet flavour.
Regal Blend
Indonesian flavoured black Tea designed by founder Walter Whittard, a rich Tea with vanilla and a mixed petal infusion, tastes and smells lovely.
Robert Fortune Blend
A blend of Chinese and Indian Teas made in honour of British Tea hero Robert Fortune blended Himalayan, and Yunnan leaves with camellia Tea flowers.
Russian Caravan
Tea used to make it's way to Europe on camel drew caravans which used to trek through Russia hence the name Russian Caravan. An original Whittard blend made with smoked Assam leaves from the Fujian region. A sweet, spicy and smokey taste.
Spice Imperial
Black Tea blended with cloves, orange, Madagasganvanilla and safflower, a good winter Tea and a good summer drink when served over ice.
Summer Pudding Tea
Blended Chinese, Indian and Ceylon leaves mixed with a heap of summer fruits including strawberries, juniper berries, blackcurrants, raspberries and red currants based on actual summer pudding, hence the name.
Tippy Assam
Whittard Assam is made from small golden tipped leaves and has a strong rich malt taste, a great breakfast Tea.
Tuo Cha
Tuo Cha or Tea Cake is Chinese human Tea compressed into solid blocks, classic fruit flavours with smoky and spicy tones, strong rich and smooth, and infused a few times.
Vanilla Sundae
Sweet Black Tea flavoured with vanilla pods, a lovely summer afternoon Tea.
Whisky Tea
A Whittard special Black Tea with scotch whisky flavour and heather petals, good to drink on its own or with some added real whisky.
Yunnan Flowery Orange Pekoe
Malty Yunnan orange pekoe leaves a rich brew with hints of spice.
Whittard Green Tea
Cherry Blossom
Freshly picked Sencha leaves flavoured with cherry and infused with pink rose and peony petals, a lovely hot or cold green tea.
Click Here For Whittard Tea Prices, Buying Options & Availability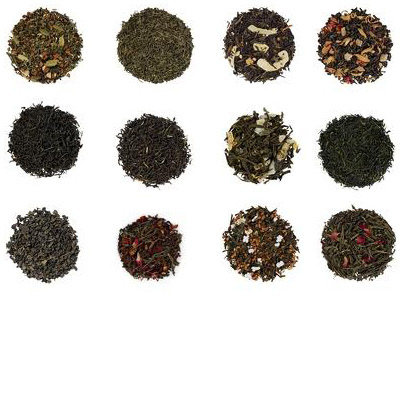 Genmaicha
Invented by Japanese farmers who experimented with their steamed green tea by adding toasted rice, the result? a nutty popcorn tasting green Tea, Whittard have replicated this traditional Tea known to the Japanese as 'umami.'
Goji Acai
Superfoods Goji berries and Acai have been blended with Whittard Sencha to give you a super green tea packed with antioxidants and vitamins.
Gunpowder Green
Traditional style gunpowder Tea a sweet and smokey taste thanks to the Chinese smoking technique, which has been used for centuries to make this great green tea.
Gyokuro
Japanese Gyokuro leaves have been sourced from the Shizuoka region. Using a rare cultivation technique, the leaves are blanket-covered from sunlight to protect the high volume of vitamins, minerals, antioxidants and amino acids before being gently steamed and packed.
Honolulu Hula
Whittard Sencha with added coconut and pineapple finished by infusing with sunflower petals, a truly tropical Tea great for those lazy summer days hot or over ice.
Ginger Green Chai
Green Chai Tea with added ginger.
Jasmine
The Chinese have been infusing Tea with Jasmine blossoms for over 1500 years, freshly picked Tea is put with fresh Jasmine petals and left overnight so the Jasmine oil can seep into the tea, this is repeated with fresh petals for six nights and what you get is a lovely sweet floral scented Green Tea.
Jasmine Dragon Pearls
Jasmine infused green Tea leaves skillfully hand-rolled into 'dragons pearls', has a refreshingly sweet and flowery taste, a Fujian speciality.
Jasmine Orchid Tea Cake
Compressed Jasmine green Teacake in the shape of an orchid, a Chinese tradition that dates back centuries, this Teacake will make 25 cups.
Mango And Bergamot
Chinese Sencha leaves infused with blue cornflower, rose and sunflower petals with mango and bergamot flavouring, a fruity green tea.
Mao Jian
Handpicked and rolled using early-season silver buds, a rich, full-bodied green tea with a nutty taste and floral finish.
Matcha Guricha
Green Guricha leaves coated in Matcha powder you get Matcha tea with a normal Tea leaf infusion.
Marrakech Mint
Smoked gunpowder green Tea blended with peppermint leaves and infused with blue cornflower petals. Minty green tea is a traditional Moroccan drink Whittard have given it an English twist with the petals.
Passionfruit And Mango
Gunpowder Green Tea mixed with mango, pineapple, passionfruit and infused with orange petals, a tropical tasting summer green Tea.
Petit Macaron
Whittard has made this Tea with ingredients from the famous French sweet, green and black leaves with hazelnut, coconut, and caramel, a sweet smooth and nutty blend.
Sencha
Sencha is steamed to stop oxidisation and preserve all the good antioxidants, vitamins and minerals green tea offers only needs light brewing for a fresh, natural cup of Green Tea.
Shanghai Chai
Chinese Green Tea with cardamom, cinnamon, cloves, spearmint, ginger and black pepper, a spicy Shanghai favourite.
Whittard Matcha
Matcha is Green Tea powder ground through granite mills using high-quality leaves, sourced from the ancient Japanese town of Uji where Tea has been grown for 800+ years.
Whittard White Tea
Chelsea Garden
White Peony leaves with rosebuds and summer fruit flavours, great hot or cold at that outdoor summer get-together.
Coconut Truffle
Chinese white tea blended with coconut and cocoa. This tea tastes like white chocolate and coconut, a naturally sweet treat.
Extravagant Earl grey
White Earl Grey? Really? Yes, a fine Chinese white tea with vanilla, rose, marigold, cornflower petals and of course bergamot for that real Earl Grey flavour, has a sweet citrus flavour.
Snow Bud
This white Tea is a blend of a bud and two different young leaves creating a silver-green coloured white Tea which is sweet with melon undertones.
White Chocolate
Blended leaves from Yunnan and Fujian Tea gardens with melted cocoa butter, a sweet and creamy white Tea.
White Peony
Whittards flagship White Tea, White Peony has been consumed since 1922 the leaves are picked early spring, and processing only involves lightly drying preserving the lovely natural taste and sweetness. White Tea has a high level of antioxidants vitamins and minerals and is also a good fat burner.
Whittard Rooibos Tea
Blueberry Rooibos
South African Rooibos blended with blueberries and infused with blue cornflower petals for an English twist, tastes a bit like greek yoghurt and honey.
Choco Rooibos
Red Tea blended with chai spice, cocoa nibs, ginger, cinnamon, cardamom, and finished with black pepper creating a unique creamy and spicy tasting rooibos.
Rainforest Rooibos
Green Rooibos leaves are heated to halt the oxidation process to create this unique flavoured Green Rooibos mango, orange and papaya are added for a tropical edge the Tea is finished by infusing with cornflower petals.
Rooibos
Rooibos has a naturally sweet honey taste and is also naturally caffeine-free. It is great for those who suffer from caffeine crashes. Whittard Rooibos is just pure red bush Tea with no added ingredients.
Rooibos Rumba
Herbal Rooibos with added mango, pineapple and coconut for a tropical red bush infusion.
Vanilla Honeybush
Herbal Honeybush Tea is similar to Rooibos and is picked in the same mountain region of South Africa Honeybush naturally tastes of Honey Whittard have added Madagascan vanilla and orange pieces for a creamy Tea with a slight citrus hint.
Whittard Oolong Tea
Big Red Robe
Big Red Robe is one of the most famous Chinese teas with a legend involving original tea bushes and red robes. After oxidisation, baked over charcoal fires gives a full-bodied roasted taste with undertones of apricot and plum.
Formosa Gaba Oolong
Made using the GABA technique, which brings out maximal gamma-aminobutyric acid, has excellent calming and relaxing properties. The Tea has a naturally creamy taste with notes of apricot, plum and cinnamon.
Formosa Jade Oolong
Jade Oolong is grown in Zhu Shan Taiwan the leaves are delicately oxidised and have a natural soft fruity flavour, hand-rolled into pearls.
Garden Party Oolong
Traditional Oolong blended with real strawberry, pineapple and papaya, infused with orange marigold petals. A fruity summer Tea.
Milk Oolong
Flavoured Oolong with a rich butter taste that's similar to caramel. This Tea is naturally sweet and thick-bodied.
Mountain Pearls
Oolong pearls that have been made in the Fujian Province the leaves go through painstaking heating and rolling process which makes a natural, full-bodied, creamy Tea with a floral sweetness.
New Zealand Oolong
This very rare Oolong is grown in the winemaking district of New Zealand the only Tea garden in the country which was founded in 2009 by a Taiwanese family. This is a really unique Oolong with a  natural biscuit taste.
Whittard Fruit & Herbal Tea
Apple & Elderflower
A blended fruit infusion of apple, elderflower, hibiscus, liquorice and vanilla finished with rose and marigold petals, serve hot or cold.
Baked Apple
This Tea tastes like spiced apples with a blend of apples, almonds, cinnamon, and hazelnuts with an added cream flavour.
Cleanse Tea
Cleanse yourself with this fabulous Whittard blend of cleansing Tea and aniseed, fennel, coriander and liquorice, a healthy choice.
Cucumber Mint
An unusual blend which works peppermint leaves, cucumber and sweet apple, has been infused with blue cornflower petals to give you this minty cucumber tea.
Dreamtime
Rooibos with apricot, vanilla, hibiscus and honey, a sweet and fruity blend.
Go, Go, Ginger
Ginger and Lemon's classic mix but with the added twist of echinacea, linden flowers, and blackberry leaves.Golden Chamomile
A simple calming Chamomile Tea with a naturally sweet and floral taste.
Golden Tumeric
A tumeric based Tea with fennel and aniseed for India's taste, Whittard has cleverly added lemongrass, mint and goji berries for a zingy menthol hit.
Grapefruit Yerba Mate
Smokey gunpowder green tea has been used as the base with added peppermint, lemon balm and grapefruit. Very high in antioxidants and caffeine.
Herbal Chai
Herbal Chai with cinnamon, cardamon and ginger-infused with sweet star anise and pink rose petals, a fresh floral taste that's slightly spicy.
Lavender Yerba Mate
Yerba Mate mixed with lavender, lemon and bamboo leave a favourite of ancient Amazonian tribes, naturally sweet.
Lemon & Ginger
Herbal Tea blended with lemongrass, ginger, liquorice, spearmint, and a refreshing, soothing drink.
Liquorice Twist
A blend of liquorice root and peppermint leaves, delightful and refreshing with a minty taste
Moringa & Bamboo
Moringa is a little-known tree with a very high content of vitamins and minerals, Whittard has blended this superfood with lime and bamboo leaves, a super antioxidant healthy blend.
Mulled Wine
Mulled wine Tea created with a blend of fruits and Christmas season spices, lovely hot during the festive season or over ice in the summer.
Orange & Cinnamon
Caffeine-free Chai made with chamomile leaves, orange, ginger, cinnamon and nettle brews a sweet and tangy drink.
Peppermint
Pure peppermint tea made from the whole peppermint leaves good for bloating relief and digestion with the bonus of being caffeine-free.
Raspberry Blaster
A rich, fruity blend made with apple, rosehip, blackberry, hibiscus and red berries.
Rosebuds
Whole Rosebuds ready for infusion, lightly brew to make a sweet, refreshing Tea.
Strawberry Mint
Blended strawberries, apple and spearmint with bean pods and herbal nettle, good hot or over ice on those hot summer days.
Sleepy Tea
A blend of Chamomile and lavender to help you get to sleep, enjoy before bedtime.
Strawberry Serenade
A fruit infusion of strawberry, hibiscus, rosehip, yellow safflower petals and blackberry leaves.
Super Fruits
The health infusion with a very high amount of antioxidants contains superfoods goji, acai, rosehip and hibiscus. Very fruity and refreshing.
This Rocks Detox
Nettle leaves blended with liquorice, cardamom, ginger and lemongrass 100% natural and caffeine-free, ideal for when you have overdone it and need to detox your body.
Toffee Apple
Tastes like toffee apples with whole pieces of apple, pineapple and macadamia nuts.
Turkish Apple
Whittards own a popular Tea consumed in Istanbul, a delightful and fruity taste and can be served hot or cold.
Very Berry Crush
A blended, flavoured fruit infusion Tea with strawberries, blueberries, black currants, hibiscus and cornflower petals.
Click Here For Whittard Tea Prices, Buying Options & Availability