The East India Company was established over 400 years ago by a group of merchants working under royal charter for queen Elizabeth the 1st.
These merchants were true pioneers who bought much exotic Tea's herbs and ingredients to Britain, changing tastes and customs worldwide.
Click Here For East India Company Tea Prices & Availability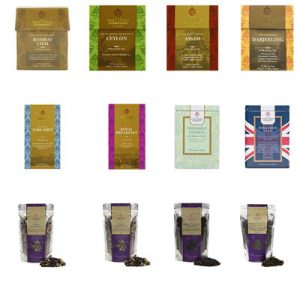 The company was the first to bring Tea to China and India and was responsible for 50% of the world's trade while employing 25% of the British workforce.
The East India Company is legendary in many ways. Today, it is recognised as a luxury brand worldwide with unique and evolving products made from the finest ingredients, including a range of Tea.
East India Company Black Tea
Assam SF Tippy Golden Flowering Pekoe
Fine Assam leaves from India, a favourite malty brew.
Christmas Tea
Christmas flavours blended with orange pekoe Ceylon Black Tea. Nutmeg, cinnamon, ginger and pepper are used to create that true festive taste.
Cinnamon Spice
Sri Lankan Black Tea blended with cinnamon and infused with cinnamon oil, sweet and spicy.
Darjeeling First Flush
First flush Darjeeling picked in early spring, specially picked for extra fruit and floral flavour.
Director Reserve
Second flush Darjeeling from the prestigious Namring Estate specially made medium bodied Tea with muscatel hints.
First Romance
Sri Lankan black tea with added orange, mango and strawberry infused with flower petals, a creamy, fruity taste.
Ginger
Ceylon Black Tea blended with ginger root, warm, spicy and refreshing.
Governor Aungier's Bombay Chai Loose Tea
Gerald Aungier was the East India company president over 300 years ago this Chai Tea has been named after him and Bombay. Black Tea has been infused with the spices cardamom, cinnamon and clove.
Himalayan Gold
Mild floral Tea from Nepal's mountain gardens oxidises and dried a mild floral Tea naturally.
Kama Sutra
A passionate black Tea blend of Indian and Sri Lankan leaves, spices, oranges and rose petals.
Lychee Congou
Fruity black Chinese Tea that's been infused with lychee, lovely hot or cold over ice.
Orange Pekoe Pedro
Handpicked century-old leaves brew a light black Tea that's incredibly high in antioxidants.
Nepal Ruby Black
Naturally matured black leaves brew a full-bodied Tea with a mild but spicy and smokey undertone.
Nilgiri Frost
Rare large black leaves grown at high altitudes in Nilgiri India are handpicked in the winter frosts to make this special mild black Tea.
Rainforest Lumbini
A rich and very sweet golden tipped black Tea from the Lumbini region of Ceylon.
Royal Breakfast Black Tea Caddy
Royal breakfast Tea is a full-body alternative to regular breakfast Tea, rich and malty for the breakfast table.
Royal Flush
In 1954 Prince Phillip visited Ceylon and planted an orange pekoe bush. This Tea is harvested from bushes propagated from Prince Phillips bush. This delicate medium bodied Tea truly has the royal touch.
Sir Anthony Oliphant's Ceylon
After Sir Anthony Oliphant, Pure Ceylon owned the first Tea estate in Ceylon, flavoursome, balanced black Tea.
The Campbell Darjeeling
Second flush Darjeeling with a natural muscatel flavour with a fruity undertone, named after DR Cambell The East India Company's superintendent of the Darjeeling region.
The Boston Tea Party
You have probably heard of The Boston Tea party. The East India Company certainly have back in 1773 officials at Boston harbour refused to allow many ships loaded with taxed Tea to return to Britain, angry locals boarded the ships. They threw all the Tea into the Harbour. To commemorate this historic event, the East India Company has made The Boston Tea Party blend identical to the Tea launched into the harbour. Strong and full-bodied.
The East India House Directors Blend
A blend of Ceylon, Assam and Kenyan black Teas work hand in hand to give you a complete rich brew that's great for any time of the day.
The First Estate Assam
Distinctively malty full-bodied and vibrant black Tea goes great with biscuits.
The Imperial Qing Lapsang Souchong
Traditionally smoked in baskets over pine fires this has the classic smokey flavour that souchong Tea is renowned for.
The Staunton Earl Grey
George Staunton was responsible for bringing Earl Grey to Europe, which is one of Britains best-loved Teas, this full-bodied refreshing Tea has been created as a tribute to the great man.
East India Company Green Tea
Custard Apple Sour Sop
Sri Lankan Green Tea blended with essential oils and custard apple, sweet and nutty.
Directors Blend
A fine blend of 3 different Chinese green teas.
Click Here For East India Company Tea Prices & Availability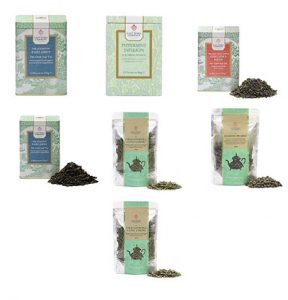 Dragonwell Lung Ching
Traditional Chinese Green Tea's been hand pressed and fired in a wok, unique pale yellow colour.
Genmai-Cha
An earthy and nutty sencha green Tea from the Japanese estate of the legendary Tea master Yoshio Moriuchi.
Green Pouchong Oolong
A light and mild green oolong from high mountain gardens in Taiwan, slightly buttery in taste with a light apricot flavour.
Houji-Cha
Roasted Sencha and Bancha leaves are used in this Japanese blend, immaculate and healthy with a unique taste.
Jasmine Pearls
Lu-cha Green Tea leaves are handpicked and left with jasmine petals to scent before being carefully hand-rolled into pearls, a delicate floral green Tea.
Matcha
Traditionally stone ground strong green Tea powder with a unique taste and flavour.
Sencha Sakura Loose
Sencha leaves infused with the leaves from Japanese sakura cherry trees, a light flowery green Tea that's a favourite in Japan.
The Forbidden City Jasmine
Chines Green Tea infused with Jasmine petals, The East India Company's own take on this classic infusion.
The Prince Sultans
Strong gunpowder green Tea blended with peppermint. This Tea is based on a centuries-old blend of green Tea leaves and Persian peppermint.
The Staunton Earl Grey Green
Healthy green tea with Earl Grey's taste, what more could you want? Infused with bergamot oil and neroli oil for a slightly different twist.
East India Company White Tea
Cardamom & Ginger
White Tea blended with cardamom and Sri Lankan ginger, the lovely sweet taste of white Tea and good antioxidant and digestion properties.
Golden Tips
A rare white tea that's cut by hand with golden scissors and naturally dried on velvet, a sweet flavour of honey and pine, very high in antioxidants.
Jasmine Silver Tips
Classic Chinese silver tipped white Tea infused with Jasmine petals, sweet and floral.
Knotted White Tea
Rare hand-knotted white Tea from Sri Lanka, a delicate and sweet infusion.
Silver Cloud
The Oodoowera estate in Ceylon is so high the clouds touch the tea gardens and flavour the Tea bushes, this fine white Tea has a subtly sweet taste of honeydew and cantaloupe.
Silver dawn
Tippy white leaves from the Namunukula mountain estate in Ceylon are infused with Persian saffron oil to give a soft and silky tasting white Tea.
Spring White Tea
Silver tipped first flush white leaves picked from Nepal's highest mountain gardens, a wonderful white Tea.
Snow White
Top leaf and bud white Tea from the Himalayan foothills' gardens, hand-rolled and naturally fermented.
Tropical Punch
A speciality blend of White Tea, hibiscus, orange peel and rosehip, a proper summer drink when served over ice.
East India Company Oolong Tea
Milk Oolong
Milk Oolong is naturally creamy and caramelly thanks to the fine hand-processing techniques used to make this Tea, light-bodied and a good antioxidant.
Orange Blossom
Oolong from Taiwan blend with orange peel, orange taste lovely hot or over ice.
Li Shan
Rare light-bodied Oolong from the Li Shan estate one of the highest Tea gardens on the planet, fruity and flowery.
Mi Lan Dan Cong
A 700-year-old classic Chinese Oolong grown on the Wu Dong mountain with a flavour of apricot, orchid, mango and peach.
Mint Oolong
Smooth and sweet Oolong with British peppermint leaves, minty and refreshing.
Pomegranate & Hibiscus
Taiwanese Oolong blended with pomegranate and hibiscus, mild and fruity good hot or cold.
The Dragons Eye
The Black Dragon, these long dark Oolong leaves curl up like a dragon's eye when brewed, light-bodied and mild with low caffeine and good antioxidant properties.
Tin Guan Oolong
A well-known Chinese strain sweet, creamy, fruity and floral with an undertone of honey, caramel aroma. Grown in the Fujian province.
Yuzo Oolong
A light-bodied mild and citrus flavoured Oolong from Taiwan.
Click Here For East India Company Tea Prices & Availability