Tea Makers Of London are an award-winning brand specialise in authentic speciality Teas sourced from some of the world's best gardens from Ceylon, India, China and Japan. Their expert Tea tasters endorse the Tea.
There is a wide range of Tea on offer, and new varieties and blends are regularly introduced.
Click Here For Tea Makers Of London Tea Prices, Buying Options & Availability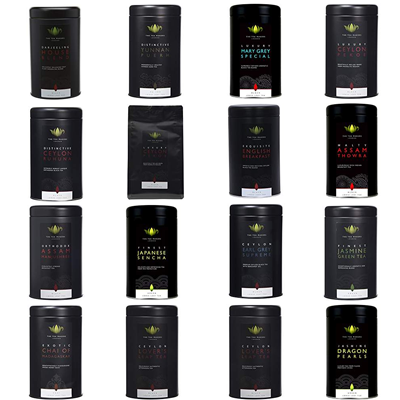 Tea Makers Of London Black Tea
Assam Breakfast Tea
Full-bodied breakfast Tea made with small dark leaves and cut, twisted and curled leaves give a strong malty flavour.
Assam Daisajan Second Flush
Second, flush Assam from the Daisajan Estate expertly picked and made using traditional orthodox methods.
Assam Mangalam
Black Assam Tea made with large leaves, has a strong malty, spicy taste and makes a great breakfast Tea.
Assam Second Flush Manjushree
A strong Assam that's been flushed twice, golden tip leaves are used to give a malty flavour, grown on the Manjushree estate in India the extreme heat conditions with the monsoons grow this great Tea.
Assam Melang Second Flush
A full-bodied, malty tasting Tea from India
Assam Thowra
Thowra second flush Assam has a strong malt taste, a great breakfast Tea with a spicy hint.
Ceylon Adam's Peak
This Ceylon is grown on the Adam's Peak Tea farm in Sri Lanka, long exposure to daylight and damp mornings grows extra special silver tips giving you a special Tea experience. Adam's Peak Tea Estate is one of the original gardens and is renowned for its unique and authentic orthodox Teas.
Ceylon Breakfast
Ceylon Tea picked from Ratnapura gardens a full-bodied breakfast Tea with a balanced flavour and caramel smell. From the award-winning Nawalakanda Tea factory.
Ceylon Lover's Leap Tea
Made using traditional orthodox techniques with short fermenting times to keep quality high, grown on the Lover's Leap estate in Sri Lanka.
Ceylon Lumbini
A mix of silver and golden tips, a medium strength Tea with hints of plum, made in the award-winning Lumbini Tea factory.
Ceylon Pekoe
A medium strength rolled black Tea using rolled leaves with the orthodox making process. Sourced from the Maskeliya Tea gardens
Ceylon Pettiyagala
A colourful, spicy and malty Tea picked in the Balangoda region in Sri Lanka.
Ceylon Ruhuna
Picked from high altitude mountain gardens in Ceylon, a dark Tea with a smooth taste.
Chinese Keemun
Keemun is the most popular Chines brand of Black Tea; it has a smooth taste and is slightly smokey with a floral hint. Picked from the Anhui region in China.
Darjeeling Earl Grey With Bergamot
A Darjeeling blend with real dried bergamot and Italian Bergamot oil, a rich Tea with a slight fruit flavour this Tea is milder than regular Earl Grey.
Darjeeling House Blend
A refreshing and sweet Darjeeling made with sweet flush Tea leaves with a floral and fruity tone, the growers have been growing these leaves for over 2 centuries.
Decaffeinated Ceylon
Tea Makers Of London Ceylon has been decaffeinated gently to retain the true flavour.
Dragon Well Supreme
High-quality Green Tea is grown in the Hangzhou West Lake Region of China.
East Frisian Blend
A mix of pure Ceylon and Black Tea, a strong brew that goes hand in hand with milk and sugar.
English Breakfast Tea
A  whole-leaf blend of 3 different full-bodied Ceylon black Teas picked from different gardens in different Sri Lanka regions, a smooth, rich Tea.
Golden Yunnan Pearls
Dian Hong golden tips hand-rolled into pearls, mildly sweet with a caramel undertone.
Jasmine Dragon Pearls
Artisan Chinese Tea made from green leaves and jasmine flowers. The flower oil is left to seep into the Tea for a few days before being hand-rolled into pearls.
Jungpana First Flush Darjeeling
First, flush Darjeeling that's picked in early spring, green and silver tips are used to make this unique blend.
Irish Breakfast
Sourced from Ceylon region Nuwara Eliya this premium Tea has a strong flavour but is non-bitter (unlike some other breakfast Teas), an Irish favourite.
Margaret's Hope First Flush Darjeeling
First flush Darjeeling that's picked early in the year when the buds have their best flavour, a rich Tea with a full-bodied flavour with a burst of muscatel.
Margaret's Hope Second Flush Darjeeling
A popular Darjeeling with a rich muscatel flavour.
Mary Grey
Citrus Earl Grey blend with lemon, bergamot infused with marigold flowers.
Makaibari First Flush Darjeeling
Picked in early spring from the legendary Makaibari Tea gardens, has a lovely smooth taste with a floral aroma.
Niroula'a Pine Oaks Smokey First Flush Darjeeling
Himalayan picked Darjeeling that's lightly rolled and smoked in pine boxes, for a full-bodied smokey taste.
Phuguri Darjeeling
Slow grown first flush Darjeeling from the Phuguri plantation, has a spicy, floral flavour and is naturally sweet.
Supreme Earl Grey Tea
Premium Earl Grey Tea with a delicate flavour.
Tarry Lapsang Souchong
A large leaf black Tea with a smokey spice flavour.
Yunnan Black Tea
A highly rated top-rated Hong Kong Black Tea made using fine quality large leaves.
Yunnan Mao Feng
A rare black Tea picked from golden buds grown at high altitudes, a smooth, full-bodied flavour with a sweet flavour and floral aroma.
Tea Makers Of London Green Tea
Anji Bai Cha
Handpicked early spring and pan dried Anji Ban is a pure form of Green Tea with a mellow lemony flavour.
Apple & Ginger
Green Tea with apple pieces, blackberry leaves and ginger root for a fruity and spicy experience.
Chung Hao
Chung Hao Green Tea infused with Jasmin petals, a classic combination and a good Tea for digestion.
Dragon Well Organic
The favourite Tea of the Chinese, Dragon Well is pan-fried Tea that's high in catechin, amino acids and antioxidants.
Fujian Mao Feng
Grown in the Fujian region and made from twisted leaves for a unique flavour and floral aroma tastes very different to other Green Teas.
Houjicha Japanese Tea
Mature leaves are gently roasted to produce this Tea, nutty taste and caramel flavour.
Huangshan Mao Feng
Grown in the Yellow mountains lovely green tea with a floral aftertaste, a popular green tea for the last 140 years.
Japanese Sencha
Japan's most popular leaf Sencha has a sweet, grassy flavour and is high in vitamin C.
Jasmine Green Tea
Green Tea scented with Jasmine petals.
Jasmine Rings
Natural Green Tea infused with Jasmine petals and rolled into rings, made in the Fujian province of China.
Japanese Premium Gyokuro
The most sought after Tea in Japan made from shade-grown leaves high in amino acids and theanine.
Matcha
Concentrated Green Tea powder is low in caffeine and has a grassy flavour.
MenthosMade
Made with the finest quality Chinese gunpowder and American mint to create a unique minty green tea can be consumed hot or over ice.
Organic Ceylon
Naturally grown Ceylon Tea sourced from Sri Lanka, has a nutty malt flavour.
Organic Japanese Sencha
A premium grade organic Sencha made from fine steamed and hand-rolled Tea leaves that are pan-fried at the final stage of production.
Organic Japanese Matcha
Premium Matcha powder made in an area of Japan with an 800-year-old Tea making industry, the finest leaves are selected and ground with granite. This Tea is very high in amino acids and antioxidants.
Royal Ceylon Gunpowder
A rare Sri Lankan Green Tea that's rolled from hand-picked buds gives a rich oaky flavour.
Sencha Goji Berry & Pomegranate Blend
Sencha blended with lemongrass and superfoods goji berries and pomegranate.
Standard Japanese Matcha
Stoneground Matcha has high amino acid content, and very high antioxidant properties, grown and manufactured in Japan.
Supreme Japanese Genmaicha
A Japanese speciality Tea, a blend of Sencha, roasted rice and popcorn, a grassy nutty Green Tea.
Supreme Japanese Sencha
Top grade Sencha handpicked from Ise Bay gardens in Japan, a mild and sweet Tea.
Click Here For Tea Makers Of London Tea Prices, Buying Options & Availability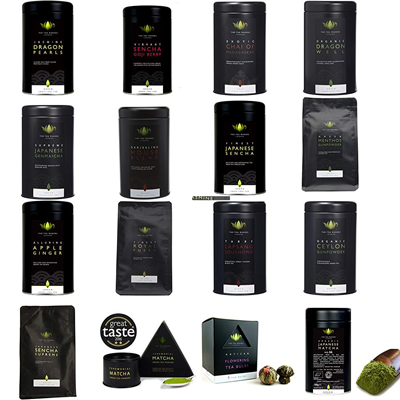 Tea Makers Of London White Tea
Chinese Silver Needle
Silver Needle White Tea picked from the Fujian province, lovely taste with high antioxidants levels.
Imperial Jasmine Silver Needle
Fine silver Tea buds infused with jasmine flowers make this natural low processed White Tea, grown and made in the Fujian province.
Jasmine Pheonix Pearls
Large white buds are handpicked then hand-rolled into phoenix eyes they are then infused with Jasmine petals, a Chinese speciality White Tea.
Rare Ceylon Silver Tips
Made from Imboolpitiya Silver Tips, a sought after and rare Virgin White Tea of the highest quality, a smooth sweet Tea with honey and pine undertones.
White Dragon Pearls
A top-end bud that's been rolled into a pearl, mild flavour one of the best White Teas available.
White Peony Supreme
Harvested at the beginning of spring these Peony buds are dried naturally in the sunlight. Brewing makes a smooth, flowery cup of White Tea.
Tea Makers Of London Rooibos Tea
Chai Of Madagascar
South African Rooibos blended with orange, cocoa and Indian spices a nice mix of fruit, spice and chocolate.
Eden Bliss
Rooibos and Honey Bush leaves mixed with apple, orange blossoms, rose leaves elderflower, kiwi and strawberry, a great fruity infusion.
Organic Rooibos
Fine and pure organic Rooibos leaves, nature's caffeine-free Tea that's high in antioxidants, vitamins and minerals.
Vanilla Rooibos
Organic Rooibos blended with vanilla pieces, good hot or cold. Grown in the western cape Tea region.
Tea Makers Of London Oolong Tea
Dong Ding Oolong
Highly oxidised leaves are used to make a sweet and savoury flavoured Tea renowned for good digestion properties, a great after-dinner drink.
Four Season Oolong
Grown and picked year-round in China's Fujian region by highly skilled growers, A mellow creamy flavour with nutty undertones.
Ginseng Oolong
Unlike other Oolong leaves Ginseng Oolong is mildly oxidised and has a wide range of health benefits. This Tea is sweet with a natural nut flavour.
Jin Xuan
A naturally sweet and creamy tea with a milky aroma.
Milk Oolong Supreme
A rare milk Tea from the high altitudes of Jin Xuan, a naturally milky flavoured Tea.
Monkey Picked Tie Guan Yin
Legends tell us that monkeys pick this Tea from the hard to reach places in the high mountains of Anxi, China, This is a true handmade Tea from Tea making family businesses, A strong buttery Tea.
Tie Guan Yin Supreme
Picked in south Fujian and processed using the ancient Barrow method which wraps the Oolong leaves in cloth to form hard Tea balls, has a sweet and creamy taste which can be enhanced with multiple infusions.
Wuyi Shui Xian
Dark Oolong Tea is grown in Wuyi Mountain gardens, light colour with a mellow fruity and creamy flavour.
Click Here For Tea Makers Of London Tea Prices, Buying Options & Availability