Tea Forte is a luxury Tea brand founded in 2003 by American designer Peter Hewitt who wanted to bring the "art of Tea" to the global market with artfully blended Teas and designer Tea accessories.
You will find Tea Forte Tea's in 35 different luxury hotels, resorts, restaurants, boutique cafes and high-end retailers. The Tea Forte range is also available online.
Click Here For Tea Forte Prices, Buying Options & Availability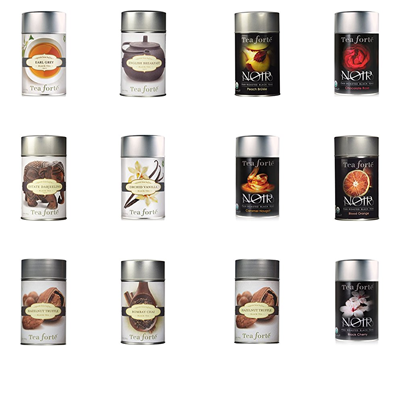 Tea Forte Black Tea
Blackcurrant
Black Tea with a sweet blackberry flavour and floral aroma.
Black Cherry
Black Tea blended with vanilla bean, liquorice root, pieces of strawberry and ripe cherries, fruity and exotic.
Blood Orange
Black Tea with 'moro' more commonly known as blood orange, naturally high in antioxidants.
Bombay Chai
Strong black tea with the classic chai Indian spices of cardamom, ginger, clove, cinnamon and anise.
Caramel Nougat
Black Tea flavoured with caramel, hazelnut and butter. A creamy sweet Tea.
Chocolate Rose
Fine black Tea leaves and chocolate infused with rose petals.
Darjeeling Quince
An artisan blend of Darjeeling from a Himalayan Tea garden and quince a sweet mildly pear tasting fruit, brisk, full-bodied Tea with a floral aroma.
Earl Grey
Tea Forte has produced their own version of this English favourite. Cold-pressed Assam infused with Italian bergamot oil, rich and full-bodied.
English Breakfast
Rich malty black Tea made for the breakfast table. A cup is a perfect start to your day.
Estate Darjeeling
Rare Darjeeling leaves from the Monteviot Estate, a delicate flavoured black Tea with a floral aroma.
Formosa Oolong
Grown and handpicked in mountain Tea gardens, smooth to drink with a natural peach undertone.
Ginger Snap
Blended Black Tea and spices, has the true taste of ginger snap.
Mountain Oolong
Oolong Tea is grown in high altitude Chinese gardens infused with peach and marigold petals for a mild peach black Tea experience and enticing floral aroma.
Orchid Vanilla
Black Tea blended with vanilla sourced from Madagascar and finished with coconut pieces, a tropical tasting Tea that's delicious hot or cold.
Peach Brulee
Pan-roasted black Tea with peach, mango, coconut and infused with marigold petals.
Rum Raisin Biscotti
The finest black tea with the gorgeous flavour of rum & raisins.
Sweet Orange Spice
Exotic black Tea with mandarin orange and cinnamon, a rich, full-bodied taste.
Vienna Cinnamon
Sweet & spicy black tea thanks to the high amount of Vienna cinnamon, a good Tea for insulin regulation.
Tea Forte Green Tea
Green Mango Peach
Fine quality green Tea leaves with peppermint, mango's and peach, fruity and fresh.
Jasmine Green
Yin Hao Green Tea infused over several days with jasmine petals, sweet and smooth with a lovely floral aroma.
Lemon Sorbetti
Inspired by the Italians favourite sorbet Green Tea leaves with lemon and wildflower honey, tastes like a real dessert.
Moroccan Mint
Strong gunpowder green Tea blended with Moroccan nana mint leaves, rich and refreshing a delicious digestive Tea and antioxidant.
Oasis
Citrus Green Tea infused with various floral blossoms, refreshing and healthy.
Orange Jasmine
Green Tea gently infused with jasmine petals and fresh oranges, a zingy twist on a green Tea classic.
Sencha
Sencha is the finest Tea leaf, and Tea Forte has blended these premium leaves with various herbs and fruits. Finally, Tea is infused with various flower petals.
Click Here For Tea Forte Prices, Buying Options & Availability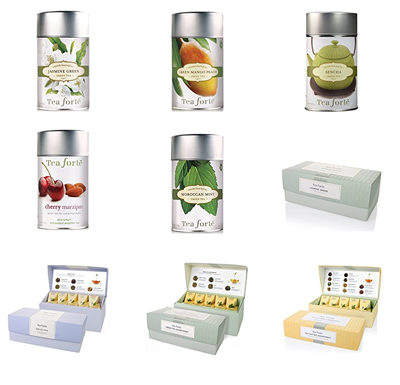 Tea Forte White Tea
Peach Rhubarb Preserve
Rare White Tea leaves picked during the summer season are blended with rhubarb, peaches, hibiscus, and hot or cold.
Tangerine Rosemary
Rare organic white Tea with apple, tangerine and rosemary, sweet and delicate.
Vanilla Pear
Premium rare organic white Tea with vanilla and pear, a delicately sweet and soothing taste.
White Ambrosia
Very rare Pai Mu Tan first flush white leaves have been mixed with vanilla and coconut, a sweet and refreshing tropical white Tea.
White Cinnamon Sage
Rare organic white Tea blended with roasted honeybush, cassia cinnamon and sage.
White Apple Ginger
Organic white tea naturally flavoured with crisp apple and spicy ginger.
White Ginger Pear
Pai Mu Tan is one of the rarest white Tea's, plucked before sunrise early season from chicha bushes. This premium white Tea has been blended with pear and ginger for a warm fruity zing.
Tea Forte Fruit & Herbal Tea
Apricot Amaretto
Herbal Tea with sweet apricot, juicy peach and almond, sweet fruity and refreshing.
Blueberry Merlot
An organic relaxation herbal Tea blended, blueberries and sage.
Chamomile Citron
Egyptian chamomile blossoms with rosehip, lemongrass and mint, very relaxing.
Cherry Cosmo
A herbal blend of Cherries, raspberries and hibiscus blossoms.
Citrus Mint
Fresh and crispy a mix of citrus and peppermint leaves, good hot or cold with ice.
Coco Truffle
Organic cocoa Tea with cardamom, liquorice and fennel.
Cocoa Coconut
Smooth, creamy and sweet chocolate Tea flavoured with coconut and hazelnut.
Harvest Apple Spice
Orchard apples with berries, cinnamon and clove the true taste of autumn.
Ginger Lemongrass
Lemongrass based herbal Tea with organic ginger root, warm and citrusy.
Jasmine Chamomile
An infusion of soothing Chamomile and jasmine petals, a relaxing Tea that will calm those nerves.
Kiwi Lime Ginger
The citrus taste of lime with warming ginger in a Tea.
Lemon Lavender
Soothing, sweet and calming chamomile flowers with lavender, linden leaves and lemon balm
Raspberry Nectar
Raspberry's infused with tropical hibiscus petals, a delightful raspberry Tea great in the summer when mixed with ice.
Tupelo Honey Fig
Rare organic Tea blended with sweet figs and peppermint, flavoured with tupelo honey.
Wild Berry Hibiscus
A mix of wild berries, hibiscus and rosehips a citrus twist has been added to finish this fruit and herbal mix.
Tea Forte Rooibos
African Solstice
Naturally caffeine-free and high in antioxidants, a blend of rooibos, berries, vanilla and blossoms.
Mojito Marmalade
South African rooibos with orange and spearmint combine this with the natural vanilla of redbush Tea, and you have the real taste of mojito.
Peach Jubilee
Rooibos redbush leaves blended with Madagascan vanilla, cinnamon sticks and peach.
Swiss Apple
A rooibos and apple infusion with alpine chocolate and cinnamon.
Winter Chai
South African rooibos redbush tea blended with cinnamon, cardamom and ginger.
Click Here For Tea Forte Prices, Buying Options & Availability